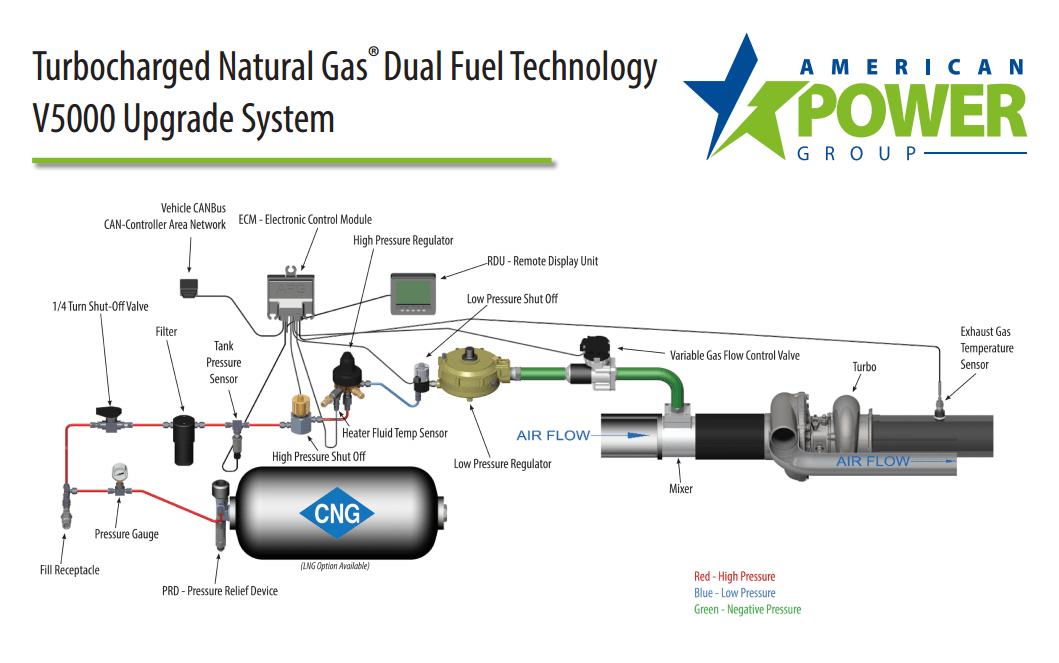 American Power Group Corp. says that its subsidiary, American Power Group Inc. (APG), has entered an Authorized Dealer Agreement and a Certified Installer Agreement with Cullen Diesel Power Ltd. to introduce APG's Turbocharged Natural Gas V5000 Dual Fuel Systems to British Columbia.
According to APG, the first dual-fuel order for 10 systems will be installed on conversions for Clark Freightways from Coquitlam, British Columbia, and will be funded through a local natural gas conversion incentive program.
Shipment of the initial 10 APG systems is scheduled for this month.
As reported, Cullen Diesel Power Ltd. and its subsidiaries will manage all aspects of the APG V5000 Dual Fuel conversions in British Columbia.
"We look forward to working with Cullen Diesel Power and Clark Freightways and fully support the various incentive programs to open up the British Columbia market to the economic and environmental benefits of APG's Turbocharged Natural Gas Dual Fuel Technology," stated Lyle Jensen, American Power Group Corp.'s CEO.
"There are reported to be over 50,000 registered Class 8 trucks in B.C., and many are heavy-haul, high-horsepower route profiles, which only have dual-fuel natural gas technology as a solution in order to retain the required power and torque performance," he added. "This pilot program is a 'win-win' scenario for the fleet owners and citizens of British Columbia."
Established in 1957, Clark Freightways takes part in green initiatives, working to reduce its carbon footprint through continual research, investment and implementation of fuel conservation and emission reduction solutions.