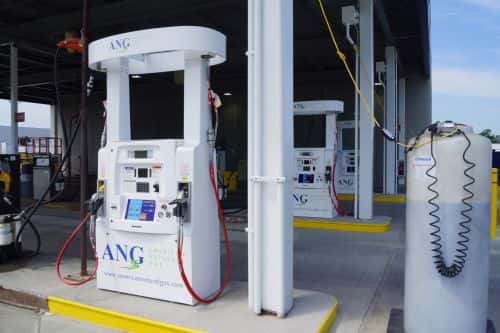 New York-based American Natural Gas LLC (ANG) has announced the completion of a new compressed natural gas (CNG) station at Northeast grocery retailer Tops Friendly Markets' distribution center. The facility, built by ANG and located at 5873 Genesee St. in Lancaster, N.Y., will fuel Tops' new fleet of 55 CNG tractors leased from Ryder Systems Inc.
Tops selected ANG through a request for proposals process. ANG says the station features twin 400 HP Cobey Energy compressors, with a combined output of approximately 2400 SCFM (17 GGE/minute). The company says this will meet the high-flow needed for the narrow time windows Tops' Class 8 tractors have to fuel up. Tops is expected to use a minimum of 1.2 million DGE of CNG per year, making this one of the largest CNG stations in New York, according to ANG.
"It's an exciting day for all of us at ANG. This Tops project is going to set the pace for the grocery industry. The state-of-the-art, heavy-duty CNG fueling station and strategy will save fuel and protect the environment," says Drew West, CEO of ANG.
This progressive move is another effort by Tops to reduce its overall carbon footprint. ANG says the use of CNG is expected to help Tops reduce its greenhouse gas emissions (including 6,276,421 lbs of CO2), run quieter engines, and cut Tops' fuel costs by 50%.
"At Tops Friendly Markets, our priorities are to have a reliable fleet of well-maintained vehicles to ensure our stores receive deliveries on time," says Ron Ferri, Tops' senior vice president of distribution and logistics. "With Ryder's natural gas vehicles, and the ANG fueling station, we have the confidence that we can get the service and performance we need from our new natural gas fleet. Our operation will be more cost-effective and environmentally friendly."
ANG notes it is leasing the property for the fueling station from Tops and will continue to own, operate and maintain the facility. According to Tops' website, the retailer operates over 160 full-service supermarkets in New York, Pennsylvania and Vermont.