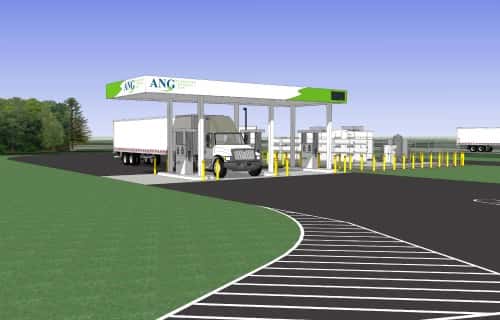 New York-based American Natural Gas (ANG) has announced it is building a public compressed natural gas (CNG) station near Rochester, N.Y. The company says the facility will be at the intersection of I-390 (Exit 19) and Chili Ave., in close proximity to regional distributors and the Greater Rochester International Airport.
With a focus on cold-weather-reliable systems, ANG selected 400 HP Cobey Energy compressors with two points of temperature compensation with a Xebec dryer. The station will feature three fueling lanes and Bennett CRIND dispensers equipped with NGV1 heavy-duty truck/bus nozzles to accommodate Class 8 semi-tractor-trailers. The heavy-duty station will be able to support high capacity fast fueling for large-volume users, says ANG.
The station will be constructed on an ANG-owned parcel at 1145 Chili Ave., and the company will own, operate and maintain the facility. Construction is set to begin this November, and ANG anticipates a spring 2016 opening.
"Return-to-base operations, such as those employed by grocery stores, are particularly good candidates for converting to CNG," says Drew West, CEO of ANG. "We've heard the demand from these fleets and others, including regional long-haul and public transportation companies, and are excited to make this alternative fuel more accessible for Rochester businesses."
In September, ANG unveiled Tops Friendly Markets' fueling station as the grocery retailer committed to converting its entire distribution fleet from diesel to CNG.