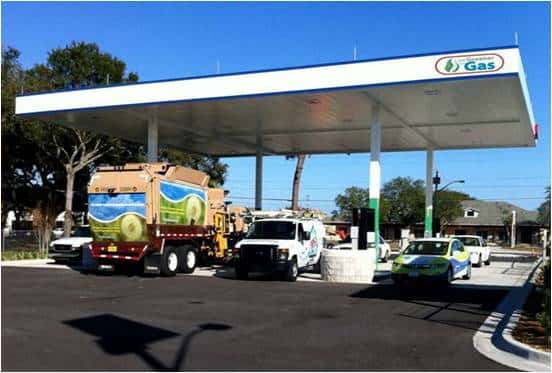 Clearwater Gas System (CGS) has slashed the fuel price at its public compressed natural gas (CNG) station, and the municipal utility, located in Clearwater, Fla., says the change is "a direct result" of the recently extended alternative fuel excise tax credit.
In December, U.S. Congress passed legislation that revived the federal subsidy, which provides a $0.50/gallon-equivalent tax credit to the seller of alternative transportation fuels, including CNG.
"This law extends the incentive for 2016 and retroactively for 2015," explains Lisa Brown, public information specialist for CGS. "Therefore, Clearwater Gas was able to quickly pass the tax savings along to our consumers (fleets that use the station) based upon its '2015 retroactive status.'"
On Jan. 1, the utility reduced the price for CNG at its station from $1.47/GGE to $1.17/GGE, and Brown says the rate remains that low. Brian Langille, the utility's operations manager, states, "The new policy change makes CNG even more affordable."
The CNG station is located at 1020 N. Hercules Ave. in Clearwater, and it first opened in October 2011.
"In an effort to be less dependent on foreign oil and eco-conscious, the City of Clearwater made the decision to build the station and provide a place for both privately and publicly owned CNG vehicles to fuel up at a low cost," states Brown.
According to CGS, the station helps refuel several area fleets, including Verizon, Waste Pro, Jolley Trolley and the city's solid waste department. All told, the station currently serves about 100 CNG vehicles, says Chuck Warrington, CGS' managing director and executive officer. That includes 22 CGS utility vehicles and 34 Clearwater solid waste trucks.
"CGS has another 25-plus utility trucks still to convert, and [the Clearwater solid waste department] has another 35-plus trucks to convert – both programmed to be done as our annual replacement program progresses over the next couple years," says Warrington. "We are also actively encouraging other public and private fleets to consider converting to CNG to save money, reduce environmental emissions and reduce fleet maintenance costs."
The fueling station is the utility's one and only CNG facility, but Brown says, "As the demand for CNG continues to gain momentum, Clearwater Gas System may consider constructing a second CNG station."
Although the new excise tax credit extension lasts until 2017, both Warrington and Brown say the natural gas vehicle industry needs more policy certainty.
"The American Public Gas Association, the American Gas Association and NGVAmerica – all in Washington, D.C., and which we are members of – are all advocating for long-term excise tax credits in order to encourage long-term decisions to convert fleets to natural gas, America's fuel," says Warrington.
Brown adds, "The longer the term, the longer we have to continue promoting the many benefits of CNG as an economical transportation fuel that is driving new prosperity in communities across Florida and the U.S."