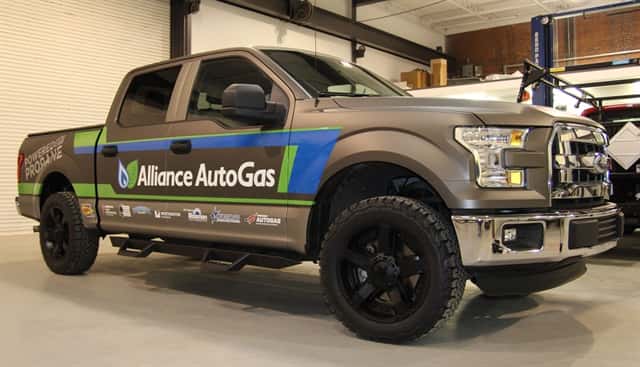 Alliance AutoGas says it will be converting a bi-fuel 2016 Ford F-150 with the 3.5 liter V6 at the Work Truck Show in Indianapolis on Thursday, March 3.
The live conversion will be going for the "Fastest Recorded Alternative Fuel Conversion to Propane Autogas" record title. Alliance AutoGas installs a handful of parts, including a secondary fuel tank to store the autogas, an injector spacer plate and engine control until (ECU). The 21-gallon autogas tank is placed on the underbelly of the truck. The ECU acts as the switch that allows the vehicle to toggle from gasoline to autogas. It is connected to the vehicle with one plug.
Alliance AutoGas has its own injection technology utilizing an injector spacing plate. The bolt-on part allows, at a set position, the propane to flow into the engine. The "plug and play" technology replaces the need for any drilling or cutting of any parts or wires.
The system does not require any permanent vehicle modifications and can be removed, which is especially convenient for fleet managers who lease vehicles.