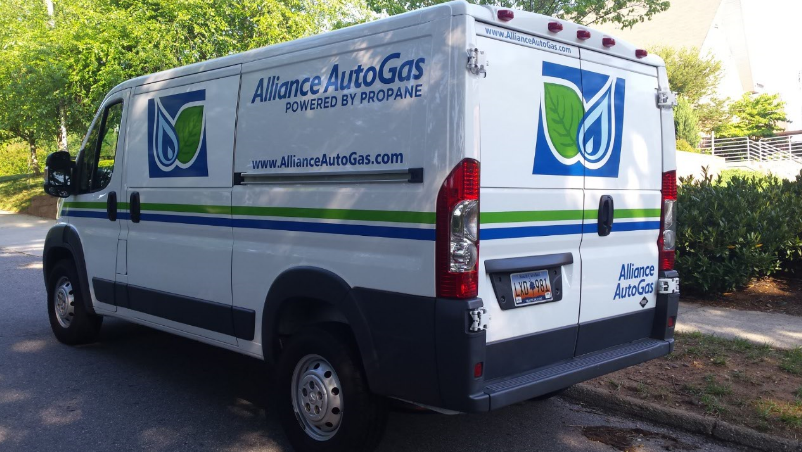 Alliance AutoGas, an international network providing a comprehensive propane autogas solution to medium- and heavy-duty fleets, recently converted a RAM ProMaster to propane autogas with the Alliance-engineered single-plug connector, no cut or drill fuel system at the Government Fleet Expo in Nashville, Tenn.
The Ram ProMaster features a 16-gallon underbody autogas tank with the conversion system, adding to the front-wheel-drive system and a 3.6 L Pentastar V6 engine.
According to Alliance, its U.S. Environmental Protection Agency- and National Fire Protection Association 58-compliant conversion system featured on the RAM ProMaster can be installed on new or in-service vehicles in half the time of other products. These systems do not require any permanent vehicle modifications, the company adds.
"By far, we offer our customers the widest assortment of choices of vehicles and options for their fleets. They can experience a positive ROI with a partial asset life when reduced conversion costs are coupled with low, stable fuel prices," says Ed Hoffman, president of Blossman Services Inc., the equipment distributor for Alliance AutoGas.
"A large benefit of this system is that the product is supported with a five-year, 100,000 mile warranty. We feel that strongly about its success for all fleet vehicles," he adds.
Alliance AutoGas has installed over 800 refueling facilities in the U.S. and Canada. In addition, the alliance says it has converted or participated in supplying autogas to more than 10,000 propane autogas vehicles and buses across North America. Over the last year, Alliance AutoGas members collectively produced $70 million in fuel cost savings for the 550 fleets they service, according to the group.
Alliance recently completed a 5,700-mile, 12-city, cross-country road trip – the Alliance AutoGas Coast-to-Coast Clean Air Ride – with its propane autogas-converted F-150 and using the plug-and-play system and safe connect nozzle. The alliance says that 468 gallons of propane autogas were used, reducing CO2 emissions by 25% compared with a gasoline vehicle.