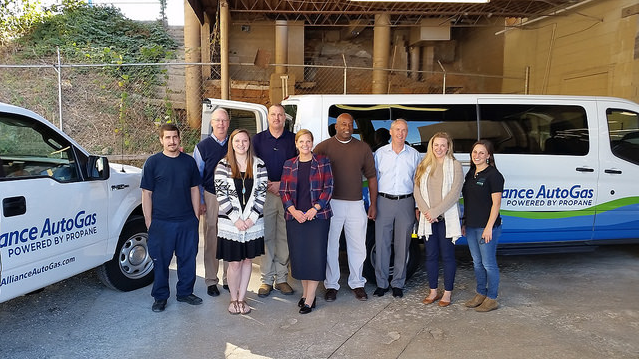 Alliance AutoGas says it brought propane-powered vehicles, including a Ford transit van, a Ford F-150 and an Explorer Interceptor, to the Clean Cities Southeast AFV Demonstration Initiative (SADI) in Clinton, Tenn., last week.
According to Alliance AutoGas, the SADI project focuses on nonexistent or underutilized markets for compressed natural gas and propane in the transportation sector, targeting applications such as school Class 8 fleets, smaller delivery vehicles, state/local government and commuter vehicles. The project seeks to reach both a considerable number of drivers and fleet operators and aims to ensure that adequate fueling infrastructure is in place to allow for continued use after the project ends.
As reported, the multistate vehicle demonstration program – complete with vehicles, driver education and marketing strategies – targets North Carolina, South Carolina and Tennessee to provide opportunities for fleets to experience a range of alternative fuel vehicles in new and existing industry fleet sectors.
The company notes that its demonstration vehicles – all powered by propane autogas – were test driven at the demonstration site and remained in Clinton for their county and municipal fleets to drive for the week.
"Alliance Autogas is excited about our continued relationship with East Tennessee Clean Fuels Coalition and Tennessee Clean Fuels as we work closely with them on the SADI demonstration project," notes Tim N. Clark, director of sales for Alliance AutoGas. "The efforts of Jonathan Overly and Melissa Goldberg of the coalition were key in getting our three Alliance AutoGas demonstration vehicles into the hands of fleet decision-makers in east Tennessee."
The event features industry partners such as ICOM, Mainstay Fuel Technologies, Penske and others, in addition to Alliance AutoGas.
Photo courtesy of The East Tennessee Clean Fuels Coalition.