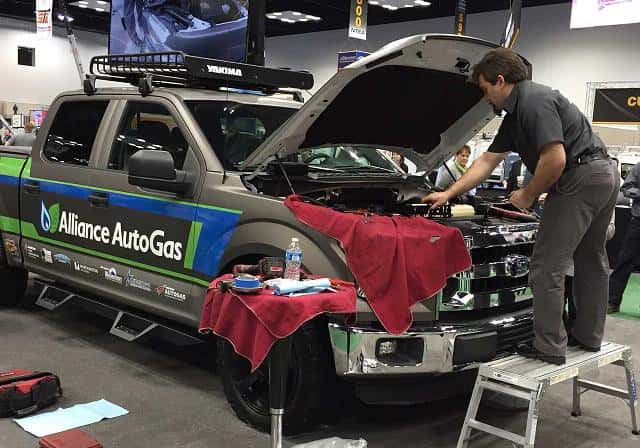 Conversion technicians Stephen Holland and Stacey Snyder have set a record for the fastest alternative fuel vehicle conversion, says Alliance AutoGas. Holland and Snyder installed Alliance Autogas' new Engineered Conversion System on a bi-fuel 2016 3.5 liter Ford F-150 V6 in 1:32:25, almost 30 minutes faster than the predicted two-hour window. Over 100 participants attended the press event and witnessed the live conversion at the 2016 Work Truck Show at the Indianapolis Convention Center on March 3.
Alliance AutoGas' Engineered Fuel System features a single plug wiring connector and a 21-gallon underbody autogas tank. All of the wiring is "plug and play," and system installation doesn't require any drilling or fabrication. By deploying these features, Alliance says labor times and conversion costs are significantly reduced.
"We are proud that our innovative and elegant fuel system design was installed in far less time than we ever anticipated," says Stuart Weidie, president of Alliance AutoGas. "Alliances' state-of-the-art technology is the most durable alternatives fuel system available in the United States, and we are also pleased about the positive environmental impact. It is a winner in all regards. It is a definitive message that our system will take the lead on reducing costs and any barriers associated with fleet conversions going forward throughout North America."
In May of this year, the converted F-150 will embark on a 5,300-mile trip commencing in Kansas City, Kan,, traveling to Portland, Ore., across the country to Jacksonville, Fla., and completing its journey in Asheville, N.C., on May 20.