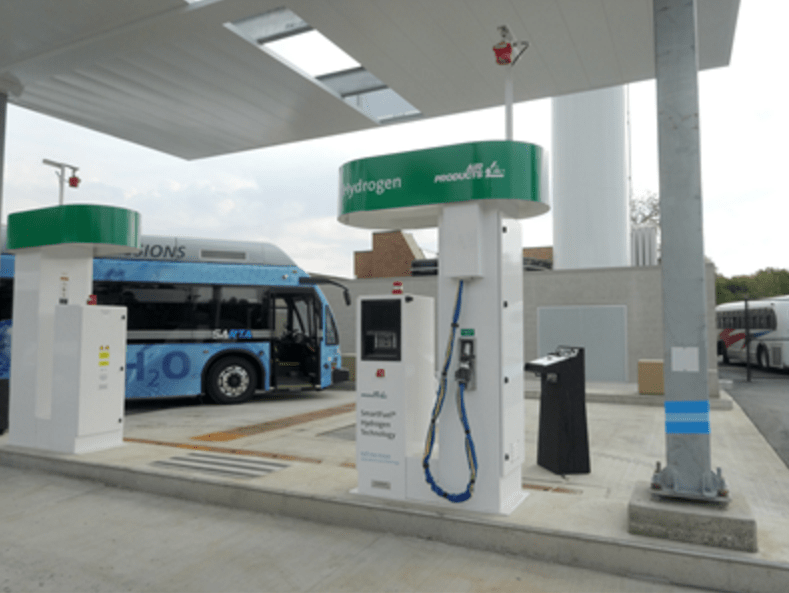 Air Products, a global supplier of hydrogen to refineries to assist in producing cleaner-burning transportation fuels, says that it will provide a new hydrogen fueling station and liquid hydrogen supply to Stark Area Regional Transit Authority (SARTA) for its zero-emission bus fleet.
Specifically, Air Products says it has installed a 350-bar hydrogen fueling station dispensing unit and a 9,000-gallon hydrogen tank, along with its hydrogen compression and storage technologies. The company will deliver liquid hydrogen to the site from its hydrogen production facility in Sarnia, Ontario.
SARTA will begin fueling buses next month and plans to grow its fleet to 10 buses over the next two years.
"We want to be at the forefront of commercializing this technology because transit systems, businesses and private citizens will begin to utilize fuel cell-powered vehicles featuring components and technology developed and manufactured in Stark County," said Kirt Conrad, executive director at SARTA. "Hydrogen is a practical, safe, cost-effective and environmentally friendly alternative to traditional fuels, and we believe our innovative program will make Stark County and Ohio the focal point of what will undoubtedly be a growing and dynamic industry."
Air Products fueled its first hydrogen fuel cell bus in 1997 and has since fueled buses in the U.S., Europe and Asia. The company has been involved in a number of mass transit projects around the world and currently has hydrogen stations fueling transit buses for the Flint Mass Transit Authority in Michigan and University of California, Irvine in the U.S.; Stadtwerke in Cologne, Germany, and Transport for London in Europe; and the Indian Oil Corp. Ltd., Faradabad in Asia.
Air Products notes that hydrogen for its stations can be delivered to a site via truck or pipeline, produced by natural gas reformation, biomass conversion or by electrolysis, including electrolysis that is solar- and wind-driven.