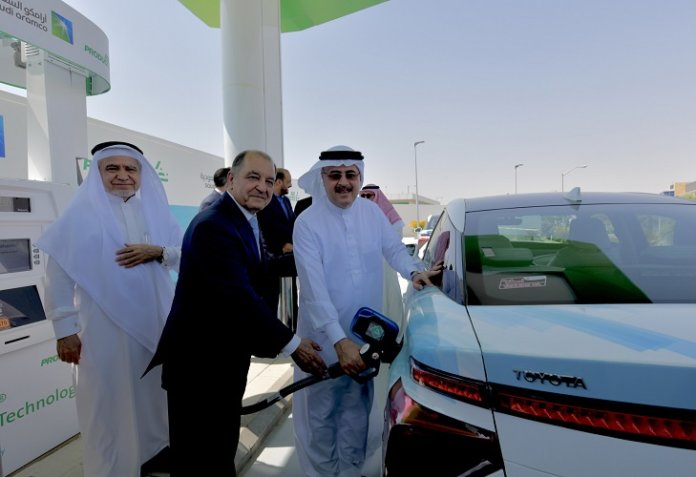 Saudi Arabian oil company Saudi Aramco and Pennsylvania-based Air Products recently inaugurated Saudi Arabia's first hydrogen fueling station, located at Air Products' new Technology Center in the Dhahran Techno Valley Science Park.
The pilot station will fuel an initial fleet of six Toyota Mirai fuel cell electric vehicles with high-purity compressed hydrogen. Bennett Pump Co., based out of Spring Lake, Mich., is providing fuel dispensers for the facility.
"This pilot project represents an exciting opportunity for Saudi Aramco and Air Products to demonstrate the potential of hydrogen in the transport sector and its viability as a sustainable fuel for the future," says Amin H. Nasser, president and CEO of Saudi Aramco.
"It is well-known that our world needs a sustainable system to address environmental challenges while also meeting growing energy demand. Hydrogen and fuel cell technologies are well-positioned to be part of the solution," notes Seifi Ghasemi, Air Products' chairman, president and CEO. "We are honored to collaborate with Saudi Aramco to establish and develop a sustainable, hydrocarbon-based hydrogen supply system for fuel cell vehicles in Saudi Arabia."
Air Products' proprietary SmartFuel hydrogen fueling technology will be incorporated into the new station to supply the vehicles with compressed hydrogen. The data collected during the initial phase of this project will provide information for the assessment of future applications. Each vehicle is expected to have a driving range of 500 kilometers and a fueling time of five minutes.