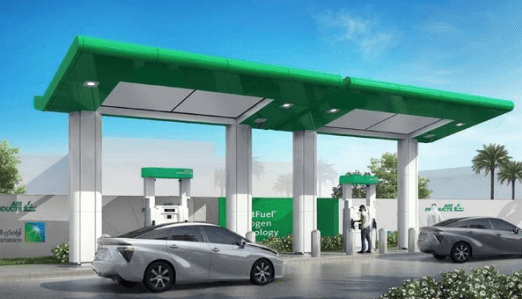 Saudi Arabian oil company Saudi Aramco and Pennsylvania-based Air Products have teamed up to build what they say will be the first retail hydrogen fueling station in Saudi Arabia.
Bennett Pump Co., based out of Spring Lake, Mich., will provide fuel dispensers for the facility, which is set to open in the second quarter. It will also feature Air Products' proprietary SmartFuel hydrogen fueling technology, supplying vehicles with compressed hydrogen through Bennett's dispensers.
The site will collect information that will be used in future hydrogen fuel cell applications in the region. Toyota Motor Corp. will supply its Mirai fuel cell vehicles for testing.

"Hydrogen fuel cells offer an effective means for the electrification of transport while maintaining easy, five-minute refueling and long driving ranges," says Ahmad O. Al Khowaiter, chief technology officer of Saudi Aramco.
"Bennett is excited to be chosen to participate in this evolutionary Middle Eastern project," adds James Collier, Bennett's senior vice president.