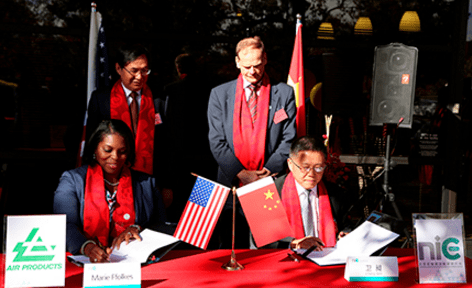 Air Products and the National Institute of Clean-and-Low-Carbon Energy (NICE) have signed a memorandum of understanding (MOU) that outlines a collaborative effort to work together on hydrogen fueling projects in China.
The MOU was signed on Oct. 13 by representatives of both companies during a ceremony at the opening of NICE America Research Inc. in California.
NICE, a research and development institute affiliated with the Shenhua Group of Beijing, Peoples Republic of China, has been devoted to the research and development of hydrogen technologies and is looking to develop the hydrogen refueling business in China with major global partners. Air Products says it has extensive hydrogen fueling experience in the U.S. and has a leading global position in the hydrogen fueling and infrastructure market.
Specifically, the companies agreed to jointly explore hydrogen fueling projects and to identify low-cost hydrogen production and distribution solutions for each project.
"We are looking forward to collaborating with NICE in establishing a business structure to support the development of a hydrogen fueling business in China. We believe both parties to this MOU have strengths that, when combined in a focused approach, can be successful in this developing market," says Marie Ffolkes, president in Americas – industrial gases at Air Products.
Additionally, beyond hydrogen fueling projects during the term of the MOU, a longer-term relationship to explore other opportunities will be considered.
Photo courtesy of Air Products. Back: Dr. Steve Zhang, Shenhua Chairman, and Ed Kiczek, Air Products global business director, Hydrogen Energy Systems; Seated: Marie Ffolkes, Air Products president, Industrial Gases-Americas, and Dr. Chang Wei, NICE CEO.