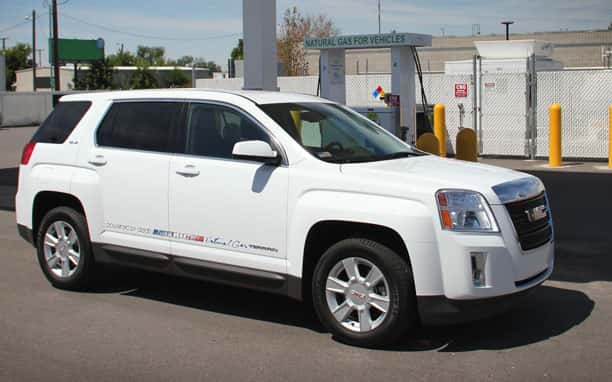 AGA Systems LLC has selected Optimum Composite Technologies LLC as the exclusive compressed natural gas (CNG) cylinder provider for its CNG bi-fuel conversions of Chevrolet Equinox and GMC Terrain SUVs.
These conversions, which are certified by the U.S. Environmental Protection Agency, will be available in cargo (55 cubic feet of cargo capacity) and passenger (seating five) configurations of the Equinox and Terrain. Optimum will be supplying 6.8 GGE and 8.3 GGE Type 3 CNG cylinders for the conversions in order to meet fleet customers' needs.
'These vehicles will be used by municipal and state agencies, private and public companies and individual consumers. We have to be selective about what tanks we put inside of a vehicle and have great confidence in the safety and quality of Optimum's cylinders,' says Bryan Wilcox, vice president of AGA Systems.
Optimum says its tanks are constructed using special engineered aluminum that is heat-treated specifically for CNG use, and the tanks are wrapped in carbon fiber and specialized resin via a proprietary manufacturing process. Quality checkpoints throughout the process, ending with a rigorous stress test, ensure the structural integrity of each tank, the company says.