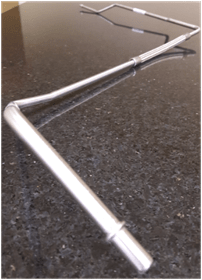 AFV Natural Gas Fuel Systems, an Ohio-based manufacturer of natural gas vehicle (NGV) fuel system components, has announced it now offers tubes and hoses that fit into the SAE J2044 connector for use in light-duty NGVs.
AFV says that although it has been a strong supplier of high-pressure NGV solutions since its founding in 2009, customers have asked the company for additional low-pressure solutions.
"The addition of the integrated J2044 end form and J2044 brazed fitting for CNG fuel line applications makes AFV a 'one-stop shop' when the SAE J2044 connections have been used in the fuel line design," says Doug Stumpfl, AFV's new business development manager.
Photo courtesy of AFV: A CNG low-pressure fuel line tube-hose combination with SAE J2044 end form