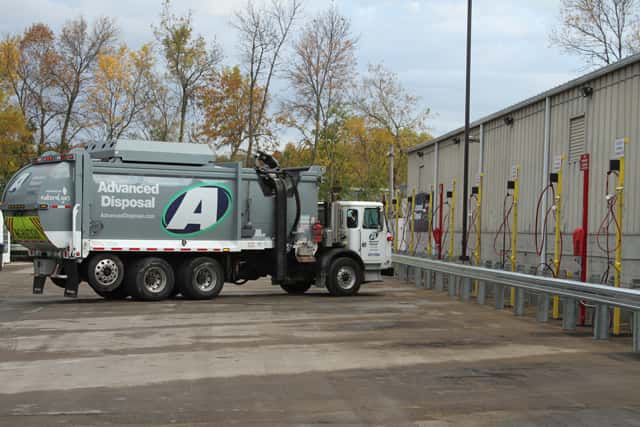 Advanced Disposal, a refuse and recycling company that operates in more than a dozen states, has expanded its compressed natural gas (CNG) fleet after adding more CNG trucks and opening a new CNG station in Hartland, Wis.
Located at Advanced Disposal's hauling facility at 559 Progress Dr., the time-fill station was designed and built by TruStar Energy, which says the two companies have partnered on 11 CNG stations throughout the U.S.
Advanced Disposal says it will refuel 11 new CNG trucks at the Hartland station every night. This number will increase as the company replaces retiring diesel trucks once their useful life has expired, and Advanced Disposal expects to eventually operate almost 60 CNG trucks out of the facility. The company says the station, which features two 200 hp compressors and hoses to fuel 58 trucks, represents a $1.7 million investment.
"We are on track to meet our goal to increase our CNG fleet to 15 percent by the end of 2015," states Advanced Disposal CEO Richard Burke.
Specifically, the company is aiming to have a total of about 345 CNG trucks in its nationwide fleet by year's end.
"Our commitment to CNG is a significant one that we've made to keep our fleet running cleaner and to creating a more sustainable planet for future generations," says Burke. "This cleaner fuel source lowers our company's carbon footprint, reduces costs of operations and ultimately helps us achieve our goals of being good stewards of the environment while enhancing stakeholder returns."
Scott Edelbach, general manager of TruStar Energy, says TruStar applauds Advanced Disposal's environmental commitment.
"Like Advanced Disposal, private and municipal refuse haulers are increasingly turning to CNG, because the [return on investment] and the environmental benefits of this cleaner, domestically produced fuel make sense for the bottom line and for their sustainability goals," comments Edelbach.
Lorrie Lisek, executive director of Wisconsin Clean Cities Coalition, adds, "We appreciate Advanced Disposal and TruStar Energy's investment in Wisconsin's CNG fueling infrastructure and recognize them for their contribution toward creating a clean fuel future for our state."
As to whether Advanced Disposal has any specific CNG goals beyond 2015, a company spokesperson tells NGT News, "Advanced Disposal is always reviewing the best, most viable economical and environmental elements of managing our fleet as it relates to fuel and many other operational and safety factors. I cannot speak to future commitments but look forward to announcing new programs and goals as they become public and are launched to better the company and the communities we serve."