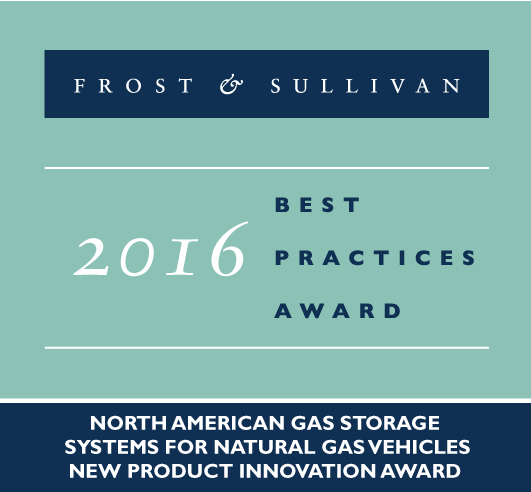 Adsorbed Natural Gas Products Inc. (ANGP), which designs, develops and manufactures onboard low-pressure adsorbed natural gas (ANG) storage technology and related products for all classes of motor vehicles, says it has been awarded the 2016 Frost & Sullivan New Product Innovation Award for Gas Storage for Natural Gas Vehicles (NGVs).
The global marketing and consulting company concluded the following: "ANGP's low-pressure adsorbed natural gas tank for fueling motor vehicles is an optimized blend of sustainability, cost-effectiveness and optimized performance. This enables a more rapid adoption of NGVs, which are privately fueled by fleets and individuals. The ANG system focuses on the automobile industry and is targeted toward fleet owners, original equipment manufacturers, infrastructure providers for refueling and retrofitters that convert existing petroleum-based vehicles, enabling them to run both bi-fuel and dedicated NG. Because of its strong overall performance, ANGP is recognized with Frost & Sullivan's 2016 New Product Innovation Award."
Frost & Sullivan grants this award as part of its recognition of industry participants demonstrating best practices in their fields.
"This is a high honor for ANGP and recognition of our years of focus to commercialize low-pressure adsorbed natural gas storage technology for motor vehicles," says Bob Bonelli, co-founder and CEO of ANGP. "This award is shared with the corporations with which we work, including Ingevity Corp., United Technologies Research Center, Aspen Compressor and Worthington Industries."
Frost & Sullivan Industry Analyst Arpita Mukherjee states, "The significant economic benefits of ANGP's low-pressure natural gas storage system will certainly boost the global natural gas vehicles market while also strengthening the North American NG export industry."