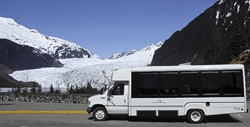 California-based ADOMANI Inc. has announced it will supply Alaskan tour company Gastineau Guiding with a hybrid shuttle bus in early 2016. Gastineau Guiding will be using the custom-built E-450 StarCraft bus to ferry passengers from the cruise ship docks in Juneau to their nearby whale watching, glacier hiking and rainforest trail excursions.
"We're excited to be providing Gastineau Guiding with a fleet solution that allows guests to experience the rare beauty of Alaska in a vehicle intended to preserve that which they value," says Jim Reynolds, CEO of ADOMANI.
Using the Ford E-450 platform, ADOMANI employed its proprietary conversion process to augment the OEM drivetrain with electric technology. The converted shuttle bus is capable of traveling 40 to 50 miles per charge when in neutral, according to the company.
"If this first conversion proves to be successful, I intend to convert most if not all of my 22-vehicle fleet to emission-free over the next few years," says Bob Janes, owner of Gastineau Guiding. "My goal is to keep Alaska pure and beautiful."
Photo courtesy of Gastineau Guiding