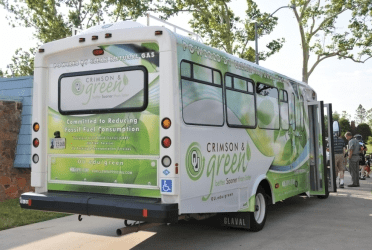 The Association of Central Oklahoma Governments' (ACOG) board of directors has approved grant funding awards for two public-sector fleet alternative fuel fueling infrastructure projects.
According to ACOG, applicants include EMBARK and the City of Norman, and both projects include the installation of compressed natural gas (CNG) fueling equipment.
EMBARK's award provides funding for a new CNG fueling facility that will include at least two fast-fill dispensers and 30 time-fill, dual hose dispensers. The association says that the facility will be on-site at the EMBARK operations and maintenance building, located at 2000 South May Ave. in Oklahoma City.
ACOG asserts that when the CNG fueling facility becomes operational, there will be a total of 18 buses, or 30% of the bus fleet, replaced with CNG buses. Moreover, the association says EMBARK plans to replace the large majority of its bus fleet (over 75 vehicles) with CNG by 2025.
The City of Norman's awarded project increases the capacity of its current fast-fill CNG station at 2351 Goddard Ave. and is intended to help accelerate expansion of Norman's existing CNG fleet.
According to ACOG, the applicants were awarded a total of $350,000, and the total project cost is estimated at $2.8 million.
"Our public fleets continue to be leaders in alternative fuel deployments that contribute to the economic, energy and environmental security for our region," says John G. Johnson, executive director of ACOG. "Switching a large fleet like EMBARK's buses to CNG results in substantial air quality benefits to our region, as does City of Norman's continued CNG fleet growth."
Projects are scored in a completive grant process based on air pollution emissions reductions through the replacement of older high-mileage vehicles with new alternative fuel vehicles or new alternative fueling infrastructure, says ACOG.