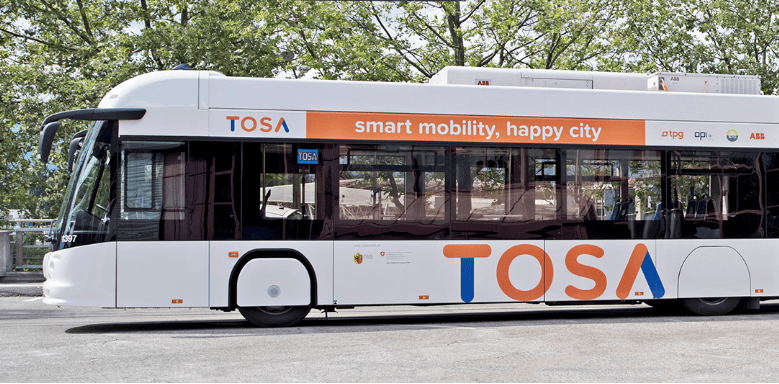 ABB, a global power and automation tech group that provides technology to support mobility applications, such as electric buses and vehicles, says it has been awarded orders totaling more than $16 million by Transports Publics Genevois, Geneva's public transport operator, and Swiss bus manufacturer HESS to provide flash charging and onboard electric vehicle technology for 12 fully electric buses.
ABB says it will deliver and deploy 13 flash-charging stations along an urban transit bus route, in addition to three terminal and four depot feeding stations. According to the company, the e-buses will connect Geneva's airport with suburban city areas and can help save as much as 1,000 tons of carbon dioxide per year compared with existing diesel buses.
The company claims this will be the world's fastest flash-charging connection technology, taking less than one second to connect the bus to the charging point and then charging the onboard batteries in 15 seconds with a 600 kW boost of power at the bus stop. A further four- to five-minute charge at the end of the line enables a full recharge of the batteries.
According to ABB, this revolutionary technology requires no overhead lines and offers a silent and zero-emission mass transit solution as a viable alternative to diesel buses, providing a model for future urban transportation.
When fully commissioned in 2018, the high-capacity articulated buses will depart from both terminuses at 10-minute intervals during peak times, carrying more than 10,000 passengers a day. As the company asserts, the replacement of diesel buses by the e-buses will reduce both noise and greenhouse-gas emissions.
As part of a separate award by HESS, ABB will supply 12 flexible drivetrain solutions for the buses, including integrated traction and auxiliary converters, roof-mounted battery units, and energy transfer systems, as well as permanent magnet traction motors.