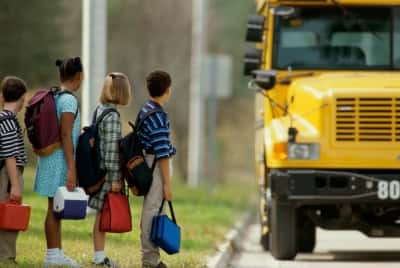 Monongalia County Schools has purchased a propane-powered Blue Bird Vision bus, making the school district the first in West Virginia to have an alternative fuel school bus in its fleet, according to the parties involved.
Monongalia County Schools bought the autogas bus from local dealer Blue Bird Bus Sales of West Virginia and will start running the new vehicle on the first day of school this year.
'We are thrilled to introduce this new product into our fleet,' says Jeff Meadows, the school district's assistant superintendent of transportation. 'It is a first, not only for our district, but also for the entire state of West Virginia. I believe after one year of service, we will start to see more Blue Bird propane-powered school buses in fleets across the state.'
The Blue Bird Vision runs on an exclusive Ford 6.8L V10 engine equipped with a ROUSH CleanTech propane autogas fuel system. The model also has a 6R140 transmission powertrain.
"Monongalia County has chosen an alternative fuel that is clean, economical and domestically produced," comments Phil Horlock, president and CEO of bus manufacturer Blue Bird Corp. "School districts around the nation are reducing their operating costs and lowering their carbon footprint with our class-leading propane autogas system."
Monongalia County Schools has a contract with a propane provider and currently has two 1,000-gallon propane tanks installed.
"It was very easy to get the infrastructure for this vehicle installed," notes Meadows. "They rolled the price of the infrastructure into the cost of the fuel, which will save the school district thousands of dollars when compared with infrastructure costs for other fuel types."