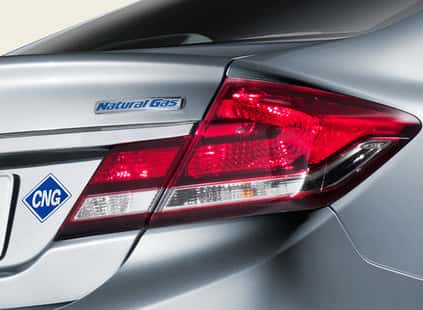 Honda has announced that the 2015 Civic Natural Gas will go on sale at select dealers beginning on Nov. 19, carrying an MSRP starting at $26,740.
The sedan features a 110 hp, 1.8-liter i-VTEC four-cylinder engine and five-speed automatic transmission. The Civic offers 8.03 GGE of on-board CNG storage and an EPA fuel economy rating of 38 mpg (highway).
The Civic Natural Gas, which will be available in 37 states, has been recognized by the American Council for Energy-Efficient Economy as a top-10 'Greenest Vehicle,' as well as included by Kelley Blue Book among the '10 Best Green Cars.'
2015 Civic Natural Gas features include a seven-inch touchscreen to view and control various media and vehicle information and a rearview camera. It is also available with a navigation systems and leather package.
More details can be found here.