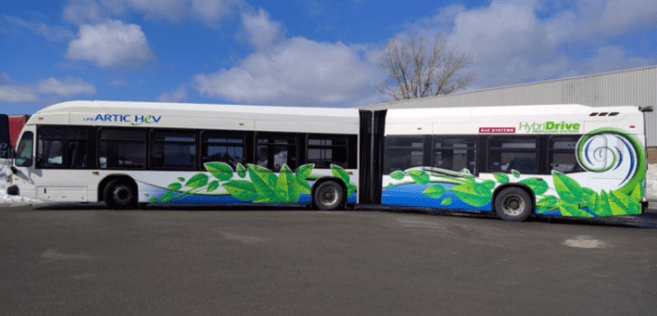 BAE Systems, a hybrid-electric drive technology provider, says that New Flyer will be delivering 44 of its 60-foot articulated Xcelsor buses with its HDS300 hybrid-electric propulsion systems to the Massachusetts Bay Transport Authority in Boston.
With an option for 46 additional vehicles, BAE Systems says this is the largest HDS300 order to date.
Articulated buses are often found in highly populated cities, seeing as they carry more passengers as opposed to their standard counterparts, which are typically 40 feet in length. The 60-foot buses comprise two bus bodies linked by a pivoting joint – hence the nickname, "bendy bus."
BAE Systems states that bendy buses are a good match for its HDS300 system because the buses' length and body mass require power systems that can handle increased power, torque and weight. The company states that this system is capable of powering a bus of up to 63,000 pounds, sustaining speeds of up to 65 miles per hour.
"We began offering the HDS300 system for North American articulated buses with New Flyer in 2013 and are powering 60-foot transit buses in cities such as Santa Clara, Honolulu, San Francisco, Seattle and now Boston," said Bob Lamanna, director of global transit sales and service.
The company expects the number of BAE Systems-powered articulated buses to grow as customer Nova Bus begins to produce 60-foot buses with the HDS300 propulsion system. Transit member agencies as part of the Association du transport urbain du Québec have 31 systems on order from Nova Bus for 2016; 15 in 2017; and Nova Bus mentioned it is seeing interest from other transit agencies now that it is offering BAE Systems' propulsion.