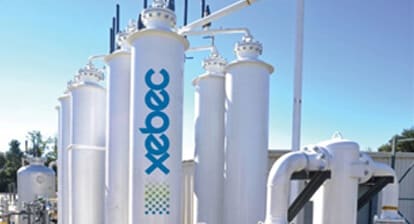 Canada-based Xebec Adsorption Inc. has entered into a letter of intent to establish a three-year partnership with SAPIO, a distributor of technical gases in Italy, to help develop Italy's renewable natural gas (RNG) upgrading infrastructure from biogas facilities such as landfills, digesters and wastewater-treatment plants.
Xebec signed an exclusive agreement to join forces with SAPIO Produzione Idrogeno Ossigeno Srl in developing the biomethane market in Italy. Xebec will be responsible for designing, building, installing and servicing SAPIO's biogas upgrading projects by using Xebec's adsorption technology solution. Further details on the partnership will follow in the near future, says Xebec.
Xebec notes it already has a similar, successful partnership in France, where the company supplies pressure swing adsorption systems.
"Although Xebec has been involved globally in renewable natural gas projects for over a decade, it is just within the last few years that RNG has become recognized as a viable, ultra-clean, ultra-low-carbon natural gas alternative," comments Prabhu Rao, chief operating officer of Xebec. "Our building order book and partnerships are clear indicators that we are in the right space in the right time."
Xebec notes that Italy has made a commitment in its 2020 national plan to increase energy efficiency and reduce energy consumption as part of the European Renewable Energy Directive target.
"SAPIO, like many corporations and countries around the world, is committed to that target, providing cost-effective, sustainable solutions through increased development, deployment and utilization of renewable natural gas so that present and future generations will have access to this domestic, renewable, clean fuel and energy supply," says Andrea Dossi, group vice president of Sapio Produzione Idrogeno Ossigeno Srl.