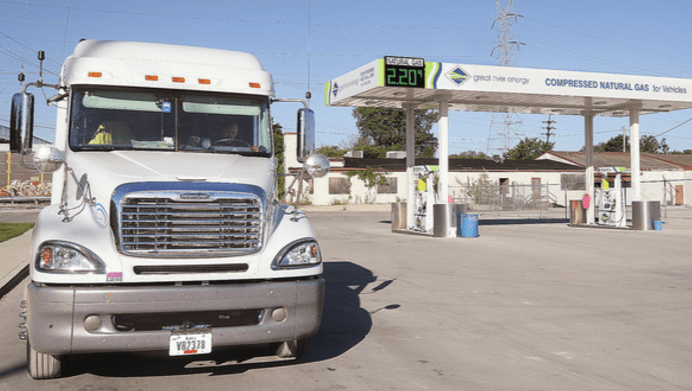 American Power Group Corp. (APG) has announced that its largest customer, WW Transport Inc., is now operating over 100 heavy-haul Class 8 trucks converted to compressed natural gas (CNG)-diesel dual fuel via APG's turbocharged engine equipment.
According to APG, WW Transport's three-year conversion rollout validates the reliability, durability and value of its patented Turbocharged Natural Gas Dual Fuel conversion technology.
Founded in 1991 and headquartered in West Burlington, Iowa, WW Transport specializes in freight and hauling. In addition to normal hauling of flatbed- and heavy-haul-type business, the company has a focus on food-grade bulk hauling, both liquid and dry bulk, and a refrigeration division.
"We are strong believers in the long-term economic and environmental benefits of using natural gas as an alternative transportation fuel, as evidenced by the significant investments we have made thus far in natural gas fueling infrastructure and natural gas vehicles," says Kyle Weuve, WW Transport's chief financial officer.
"During the past three years, APG's dual fuel conversion technology has become an important and growing piece of this commitment due to its ease of use, reliability and retention of diesel-like power and torque, which is critical for our heavy-haul routes," he states. "The reduction in harmful diesel-related emissions is an added bonus towards achieving our corporate and customer-driven sustainability goals."
"We believe that APG provides the best natural gas dual fuel conversion technology at the lowest total cost of ownership available in the market," Weuve adds.
Lyle Jensen, CEO of American Power Group, comments, "APG has carved out a specialized niche where our [U.S. Environmental Protection Agency]- and [California Air Resources Board]-qualified dual fuel systems are the only effective natural gas solution in the 13 L to 15 L Class 8 truck performance range for power and torque and diesel-related emission reductions. Fleets with heavy-haul routes and tanker fleets no longer have to compromise driver satisfaction with under-powered natural gas systems. We look forward to supporting all customer sustainability objectives with our high-horsepower alternative fuel solutions."
American Power Group states that its Turbocharged Natural Gas Dual Fuel Conversion Technology is a non-invasive software-driven solution that converts existing vehicular and stationary diesel engines to run concurrently on diesel and various forms of natural gas, including CNG, liquefied natural gas, conditioned well-head/ditch gas or bio-methane gas, with the flexibility to return to 100% diesel fuel operation at any time.