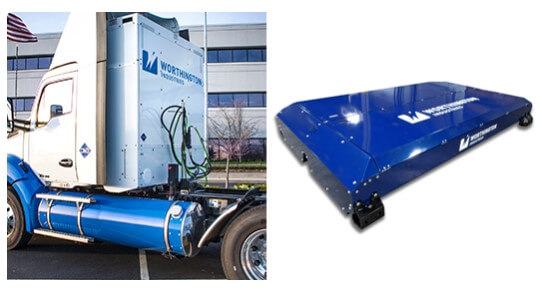 The alternative fuels business of Columbus, Ohio-based Worthington Industries has announced two new compressed natural gas (CNG) fuel system products for the medium- and heavy-duty markets: an above frame back of cab and a top of body system.
The above frame back of cab fuel system relies on Worthington's patented vertical tank design, positioned to minimize system footprint. It takes up less frame space, sits closer to the cab and requires fewer cylinders to maximize fuel capacity, the company says. Designed for technician safety and straightforward maintenance, all valves are installed at the base of the system, which does not require service techs to leave the ground. Multiple system sizes offer capacity options from 62 to 103 diesel gallon equivalent (DGE). For long-haul applications requiring ranges higher than 103 DGE, the system is compatible with other rail mount systems from Worthington to achieve over 200 DGE combined.
Replacing an existing design, the next-generation top of body CNG fuel system from Worthington is designed for refuse vehicles. With multiple mounting bracket options, the fuel system is compatible with a variety of different body and chassis designs. The system advancements deliver a simplified design that weighs approximately 15% less than the former product while offering greater cylinder protection. Worthington offers the system in configurations of 60, 75 and 95 DGE.
"Our new above frame back of cab and next-generation top of body units build on our history of designing innovative fuel systems for demanding environments," says Wayne Powers, general manager of alternative fuels for Worthington Industries. "We've worked closely with customers to design systems based on route requirements and preferred truck chassis. By matching the right fuel system and truck application, long-term benefits of CNG conversions are achieved."