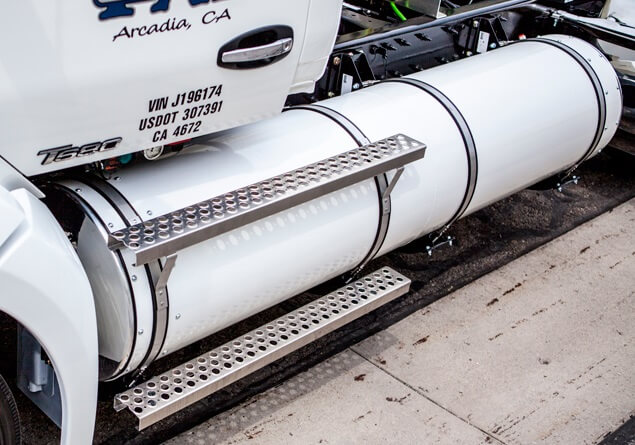 Worthington Industries Inc. has developed a new Type 3 rail-mount compressed natural gas (CNG) fuel system that features only five unique parts and is claimed to be the lightest fuel system on the market.
The system employs truck OEM factory-installed brackets to hold a Type 3 cylinder, which provides impact durability and protects drivers in the event of a side impact. Additionally, truck OEM factory-installed steps provide standard driver ingress and egress. And at 27 inches width off of the frame rail, the fuel system provides a similar width profile to diesel trucks, reducing the likelihood of clipping objects on turns.
"Weight means something different for each fleet and, for some, it can make or break profitability," says Wayne Powers, general manager of the alternative fuel systems business for Worthington Industries. "For others, it's a fuel economy factor. This system, built with input from truck OEMs, installers and fleet owners, achieves both objectives."
The first seven systems, which are being manufactured at Worthington's Salt Lake City facility, will be shipped this month to Food Express Inc.'s Arcadia, Calif.-based fleet. Food Express specializes in for-hire dry bulk food commodity transportation.
"In making the switch to CNG, we looked at many system offerings and were impressed by Worthington's new system," says Kevin Keeney, vice president of Food Express. "It's simple though robust, looks like a normal truck and delivers weight-savings while requiring less maintenance."
Worthington's fuel systems are assembled with cylinders certified to NGV2 and FMVSS 304, and systems certified to NFPA 52 and CSA B109.