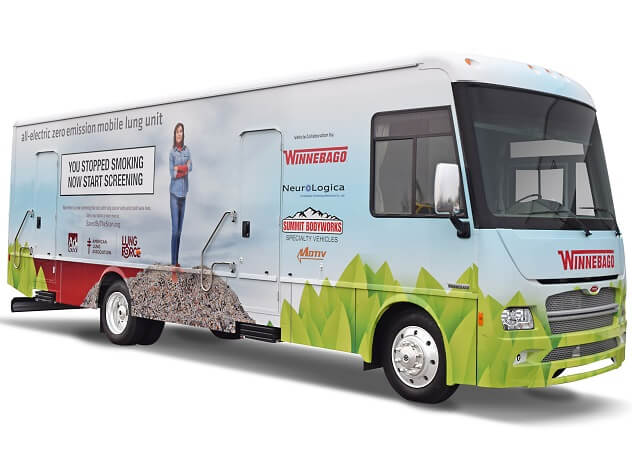 With a goal of increasing patient access to healthcare through a mobile unit with reduced vehicle emissions, Winnebago Industries Inc. has developed an all-electric Mobile Lung Unit (eMLU).
Powered by a Ford F-53 based EPIC 6 all-electric chassis from Motiv Power Systems, the specialty healthcare vehicle features the Samsung NeuroLogica BodyTom Elite, a portable, full-body, 32-slice CT scanner. The vehicle delivers an expected range of 85-125 miles on a full charge.
The eMLU vehicle is wrapped featuring the American Lung Association and the Ad Council's Saved By The Scan initiative to promote the early detection of lung cancer through screening. To help increase awareness and availability of screening for those considered high-risk, the eMLU can travel city-to-city to provide easy access to lung diagnostic services.
"We are proud to help increase access to lifesaving lung cancer screenings in the clean, quiet and emissions-free environment of the first all-electric Mobile Lung Unit," says Ashis Bhattacharya, vice president of strategic planning and development and leader of Winnebago's specialty vehicles division. "As states provide incentives and broaden anti-idling laws, we expect the medical community to adopt the customizable all-electric community outreach vehicle for a variety of functions, such as lung cancer screening, asthma management and support, blood donation, dentistry or primary care."
"Health systems are continuously looking for more efficient ways to deliver high-quality care to patients in the community, especially those patients beyond their immediate sphere of care," adds David Webster, chief operating officer of NeuroLogica. "One way to do this is through the use of mobile medical units. With its self-sufficient battery power, the BodyTom Elite-equipped electric Winnebago is ideally suited for these mobile care environments while doing so the 'green' way. We look forward to patients receiving emissions-free lung cancer screenings with the electric mobile lung unit."