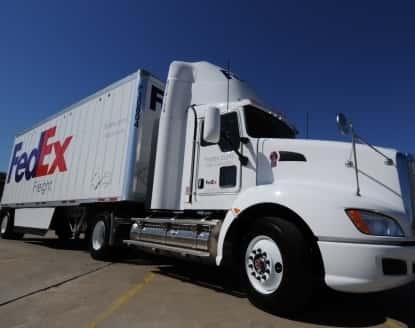 As 2012 draws closer to its sunset, the heavy-duty trucking sector is peering into 2013 with both trepidation and anticipation. Regarding the former, concern about where diesel prices are heading dominate the discussion. In terms of the latter, many fleets are eager to see how the early adopters of natural-gas-powered Class 8 trucks are faring.
Fuel costs, of course, are central to the discourse. Diesel spiked this week, with the U.S. Energy Information Administration reporting the national average at $4.034/gallon on Nov. 26.
Prices for natural gas as a transportation fuel, on the other hand, have been much lower and steady. For instance, at Clean Energy Fuels' public-access station in Riverside, Calif., liquefied natural gas (LNG) is $2.999 per diesel gallon equivalent (DGE) today. At Encana's public facility in DeSoto Parish, La., the retail price of LNG is $2.95/DGE.
Compressed natural gas (CNG) – which is much more prevalent than LNG in the U.S., albeit scarce compared to diesel and gasoline – is even cheaper. U.S. Department of Energy data collected from its Clean Cities groups showed the national average price of CNG at just over $2.12/gasoline gallon equivalent in October.
Given these price trends, it is little surprise that natural gas has received a lot of attention as an alternative fuel for heavy-duty trucking. In fact, the American Trucking Associations is hosting its first summit dedicated specifically to natural gas in trucking this week in Arlington, Va. That this key trade association is nodding acknowledgment of natural gas attests to the alt fuel's growing profile among fleets and other stakeholders.
So what are some of the pieces of this puzzle? Among the most critical are natural gas engines/fuel systems, trucks and fuel availability.
In the dedicated natural gas engines space, Westport Innovations continues to lead the way. At the large end of the engine spectrum is Westport HD, whose 15-liter power plant has logged millions of miles of operation among a number of heavy-haul fleets.
Brad Edgelow, Westport HD's North American sales manager, tells NGT News that an important new development for 2013 is an expansion of the platform to a 550-hp model for the U.S. and Canada, joining the existing 400-, 450- and 475-hp engines. These variations are available with an LNG fuel system in Kenworth (T800B) and Peterbilt (Models 367, 386 and 388) tractors.
Previously available only in Australia, where heavy dual-trailer loads are common, the 550-hp engine will be particularly well-suited to trucking in mountainous terrain, such as in Utah and Colorado, and north to Alberta. Notably, Utah and Colorado also happen to be bringing a lot of new natural gas refueling infrastructure online. Clean Energy, Encana, Blu, Shell and Fortis BC are all making waves in the Rockies right now.
Westport HD is helping Kenworth and Peterbilt technicians understand the nuances of natural gas engines and fuel systems through regular workshops in California and Texas, as well as working with truck dealerships to ensure that their parts inventory is able to accommodate natural gas trucks' needs. Dealerships all over North America are outfitting their locations to handle on-site maintenance and repair, bringing garages and service bays up to code for LNG's ventilation and gas-detection requirements.
Backing up the engines themselves are new advancements related to on-board LNG storage. Just this week, Westport Innovations announced that it was offering 120- and 150-gallon single-tank systems that enable trucks to run on cold (unsaturated) LNG. The company says that in a dual-tank, 150-gallon configuration, this technology can give a heavy-haul truck a range of 900 miles.
The Cummins Westport joint venture has put thousands of 8.9-liter ISL G engines into various truck platforms – notably in the refuse sector – over the past five years. Building on that success, the company is introducing the 11.9-liter ISX12 G in order to serve a much wider trucking market.
To say that the spark-ignited CNG/LNG/biomethane engine – which is already in circulation at pilot scale and is scheduled for production in a few months – has taken the industry by storm is probably not an overstatement.
'I have never seen anything like it,' says Andy Douglas, Kenworth's national sales manager for specialty markets. 'We have a large backlog of orders heading into build in early 2013.'
The ISX12 G will be available in Kenworth's W900S (GCW 66,000 lbs. to 80,000 lbs.) and T660 (GCW 80,000 lbs. to 140,000 lbs.) models as both LNG and CNG vehicles. Peterbilt is also hosting the new Cummins Westport engine, in its Model 320, 365 and 384 trucks.
'We have had a number of inquiries regarding the anticipated engine,' says Charles Cook, Peterbilt's medium-duty segment manager. 'We have built a couple of show trucks that have provided some valuable experience with the engine and look forward to the engine entering production.'
Across its full suite of natural gas offerings – including trucks that use the 8.9-liter ISL G – Peterbilt saw a 60% increase in its sales of natural gas-powered trucks this year. Another 50% increase is anticipated for 2013, Cook says.
Volvo Trucks and Navistar are also planning to bring heavy-duty natural gas engines to the North American market. Volvo's new 13-liter LNG platform, which it is planning to debut in 2014, will use high-pressure diesel-ignition technology.
'It's clear this segment will grow over the next several years,' said Ron Huibers, president of Volvo Trucks North American Sales and Marketing, upon the announcement. 'As the long-haul fueling infrastructure develops, the advanced technology in our new LNG engine will provide increased range and improved fuel efficiency in a seamlessly integrated Volvo powertrain.'
The company also offers CNG-powered daycabs that use Cummins Westport engines: the ISL G in its VNM and, soon, the ISX12 G in the VNL.
For its part, Navistar is working with Clean Air Power Ltd. on a diesel pilot-injection LNG version of its 13-liter MaxxForce engine. The company will roll out the engine in the International ProStar, WorkStar and PayStar trucks. The Cummins Westport ISL G is also slated to be available in the International TranStar and WorkStar, running on CNG.
Tying together all of these trucks and engines is a profound increase in the number of natural gas refueling sites. Clean Energy has led this effort, with more than 60 CNG stations completed in 2011 and another 40+ this year.
But the real play for heavy-duty trucking is America's Natural Gas Highway – Clean Energy's network of new LNG stations. Almost 50 facilities have been completed to date, and a total of more than 100 is targeted by the end of next year. These stations exist for one main reason: to accommodate Class 8 trucks rolling along U.S. interstates.
Photo: FedEx Freight recently took delivery of its first tractors that feature the new 11.9-liter Cummins Westport ISX12 G engine. Courtesy of FedEx