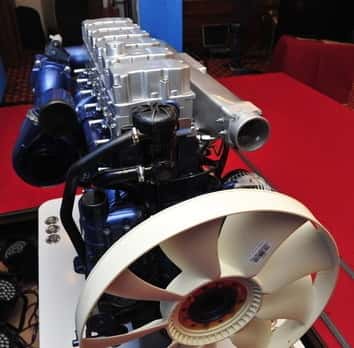 Natural gas engine specialist Westport Innovations Inc. has reported significant growth for the first quarter across a number of its operating companies and joint ventures, including a 250% boost in revenue in its light-duty business segment.
The company's joint venture with Cummins Inc., Cummins Westport (CWI), reported a revenue increase of 110%, and its partnership with China-based Weichai Power Co. Ltd. saw a lift in revenue of nearly 50%. Revenue at Westport HD – the company's heavy-duty, high-horsepower unit – increased 65%.
'Strong growth across all our business units and in all geographic regions continues to demonstrate the rapid emergence of natural gas as a significant fuel for transportation applications,' said Westport CEO David Demers, in a statement. 'We are at the start of a long wave of change in both energy and transportation.'
Demers pointed to a number of recent advancements that have great promise, such as CWI's new 12-liter ISX12 G engine for short-haul, vocational and refuse trucks, and the new Westport WiNG compressed natural gas (CNG) bi-fuel system for Ford F-250 and F-350 pickup trucks.
'Westport expects to invest more than $80 million this year in new product and technology development,' he noted. This includes Westport's work with an as-of-yet unnamed engine OEM to build a heavy-duty natural gas powerplant for the North American truck market.
In the first quarter, Weichai Westport shipped 2,728 engines, and CWI delivered 1,943. Westport HD shipped 151 systems, the company said.
Photo: The Weichai Westport HPDI natural gas engine. Courtesy of Westport Innovations