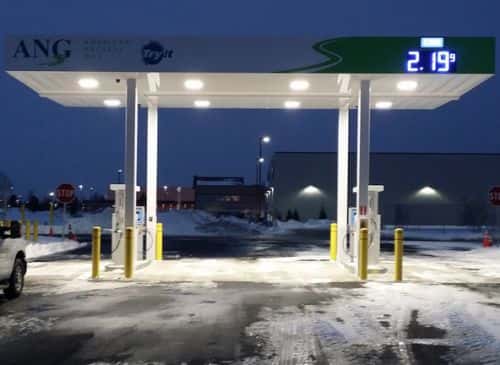 This week, Try-It Distributing Co. Inc. officially debuted its new fleet of natural gas vehicles and compressed natural gas (CNG) refueling station, located outside of Buffalo, N.Y.
The company, which focuses mainly on beer distribution, partnered with American Natural Gas (ANG) to build the CNG facility, which drew from $1 million in funding from NYSERDA. The public-access refueling site is located in front of Try-It's headquarters building at 4155 Walden Ave. in Lancaster, N.Y.
The retail price of CNG at the station is $2.19/GGE. American Natural Gas owns and operates the facility.
'It is great to see that Try-It is able to adopt CNG technology that will reduce the cost to fuel their fleet while being friendlier to the environment,' commented New York Assemblyman Dennis Gabryszak.
Try-It has deployed an initial 43 CNG-powered delivery trucks.