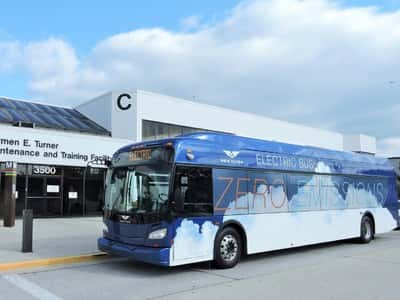 New Flyer of America Inc. has announced that it will deliver an all-electric transit bus to the Washington Metropolitan Area Transit Authority (WMATA) in 2016.
New Flyer says the Xcelsior XE40 battery-electric bus will be the next advancement in WMATA's alternative-fueled fleet, which includes over 780 hybrid diesel-electric buses. The Xcelsior XE40 is equipped with 200 kWh of energy stored in lithium-ion batteries provided by Michigan-based XALT Energy, and the traction motor is a Siemens ELFA permanent electromagnetic motor rated at 215 hp.
"We're extremely pleased to have the opportunity to demonstrate our Xcelsior XE40 battery-electric bus with WMATA," says Paul Soubry, president and CEO of New Flyer.
"WMATA is the second major metropolitan transit fleet in the U.S. that will operate our battery-electric bus," explains Soubry, noting that the Chicago Transit Authority started operating two New Flyer XE40 buses daily throughout Chicago in fall 2014.