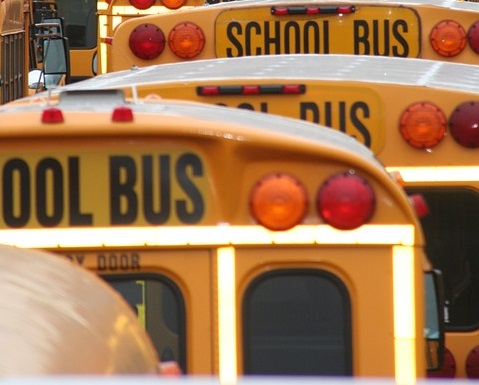 Over $3.1 million in funds that the Nebraska Department of Environmental Quality (DEQ) recently received from the Volkswagen Diesel Emissions Environmental Mitigation Trust are beginning to be distributed to local recipients for diesel vehicle replacement programs.
NDEQ received payments from the VW Trust Funds to support two projects:

1) School bus replacements: A payment of $1,891,527 has been designated to assist Nebraska school districts in replacing older diesel school buses with new, cleaner-diesel or propane-fueled buses. Each of the 41 participating school districts will receive partial funding to purchase one new replacement bus. They will receive either a 50% reimbursement for a new diesel bus (maximum payment of $42,000) or a 60% reimbursement (maximum $57,000) for a new propane-fueled bus that meets stricter emissions requirements. Several school districts have completed their projects and received their reimbursement.
2) Transit bus replacements: A payment to NDEQ of $1,255,206 will fund the replacement of two diesel transit buses for Lincoln StarTran and two for Omaha Metro. The funds for Lincoln StarTran will aid in the purchase of two battery-electric transit buses, supplementing federal grant funds. Omaha Metro will use the VW funds as partial payment for the purchase of two rapid transit buses fueled by compressed natural gas (CNG). These 60-foot-long buses will operate as part of the new Omaha Rapid Bus Transit service that will operate on Dodge Street between Westroads and downtown Omaha beginning this fall.
NDEQ estimates that, over an estimated lifetime of 15 years for the new school buses and transit buses, emissions of nitrogen oxides will be reduced by 29 tons and particulates by 1 ton.
"The new buses will have much lower emissions than the buses they are replacing," says Jim Macy, director of the department. "As a result, school children, transit bus passengers and the public along the bus routes will experience substantially reduced exposure to these harmful diesel pollutants."
As a part of the U.S. District Court settlement against Volkswagen in 2016, Nebraska became eligible to receive $12.25 million from the VW Trust Fund. Those funds must be used to reduce nitrogen oxide emissions into the ambient air as an offset to unlawful emissions by certain VW vehicles. NDEQ is the agency overseeing the disbursement of VW funds. Funds are transferred from the trust to the state upon request to fund specific projects.
In addition, NDEQ is using VW funds to supplement federal funding of the Nebraska Clean Diesel program, and future projects are expected to include the funding of public electric vehicle charging stations, among other projects.