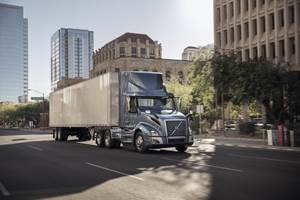 Volvo has announced that its new VNL 300 daycab is now available with the latest version of the Cummins Wesport ISX12N near-zero natural gas engine.
"The Cummins ISX12N represents best-in-class gas engine technology for local pick-up and delivery and regional haul operations," says John Moore, Volvo Trucks North America's product marketing manager for powertrain. "The low carbon footprint, expanded delivery and distribution, abundant supply and stable pricing of natural gas offer substantial benefits to fleet operators looking to utilize the fuel as a clean, quiet and cost-effective alternative to diesel without the need for a [diesel particulate filter] or [selective catalytic reduction] system."
With available engine ratings of 350 horsepower with 1,450 lb.-ft. torque and up to 400 horsepower with 1,450 lb.-ft. torque, the ISX12N natural gas-powered engine is approved for gross combination weights of up to 80,000 lbs, making it well-suited for heavy-duty regional-haul truck and tractor, port drayage, vocational, refuse, and conventional straight truck applications, says Volvo.
Volvo notes it can be operated on compressed natural gas, liquefied natural gas or renewable natural gas. The ISX12N is also certified to NOx emissions standards of the California Air Resources Board and U.S. Environmental Protection Agency.