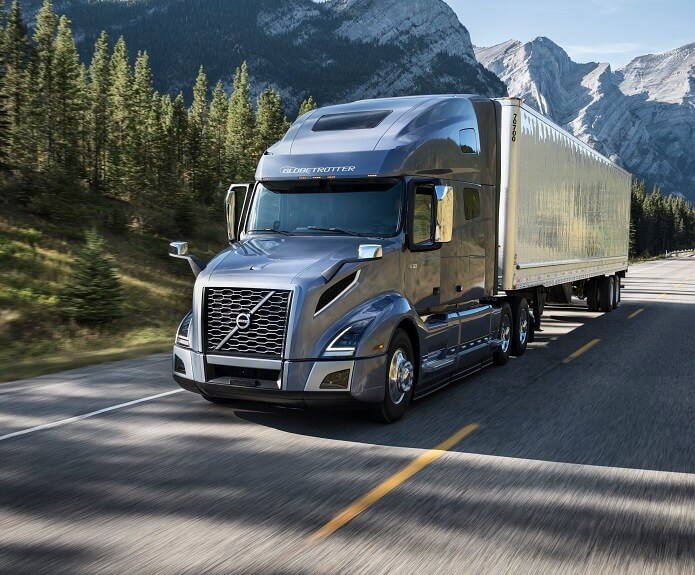 Volvo Trucks has announced the new Xceed fuel efficiency package for Volvo VNL 760 and VNL 860 models operating in dry van and refrigerated trailer operations.
The fuel efficiency package will be available for order beginning in January 2019 for 2020 models, says Volvo.
"The new Xceed fuel efficiency package is the most efficient package Volvo has ever offered for the VNL series, and it's tailored for our large sleeper models operating with dry van and refrigerated trailers, which make up more than three-quarters of the trailers used in on-highway operations," says Johan Agebrand, director of product marketing for Volvo Trucks North America.
According to Volvo, the Xceed package can improve fuel efficiency by up to 11% when compared with Volvo's Fuel Efficiency Plus specification. In addition, Xceed is 3.5% more efficient than the Fuel Efficiency Advanced specification, which was Volvo's most efficient offering prior to the new Xceed package.
"The Xceed package bundles our most efficient features to help simplify the truck spec'ing process and ensure critical components of the fuel efficiency equation aren't overlooked," adds Allison Athey, product marketing manager for Volvo Trucks North America. "The Xceed packages for our VNL 760 and VNL 860 represent a systems approach, building on our learnings from the SuperTruck projects and engineering expertise, to ensure we're including important components that work together to help maximize efficiency."
The name of the Xceed fuel efficiency package reflects several key components:
X – XE powertrain packages, including Volvo I-Shift automated manual transmissions;
C – turbo compounding;
E – extended fairings;
E – ground effects; and
D – Volvo D13 engine;
Volvo says the package provides dedicated wheelbase options to ensure the optimal trailer gap of around 44 inches for dry van or refrigerated trailer applications. Lightweight components – a horizontal exhaust system, a dedicated rear axle, limited fuel tank configurations, lightweight fifth wheels, aluminum chassis components and more – help reduce the weight of the VNL models by up to 950 pounds.
"Spec'ing correctly for an application is a vital first step toward maximizing fuel efficiency," adds Agebrand. "With the Xceed fuel efficiency package, we're providing that starting point, but it's equally important that those maintaining and driving the trucks follow best practices to help ensure their equipment is operating at peak fuel efficiency throughout its life. We can't overlook the importance of preventative maintenance, updating software, monitoring alignment and tire pressure, and driving for maximum efficiency."