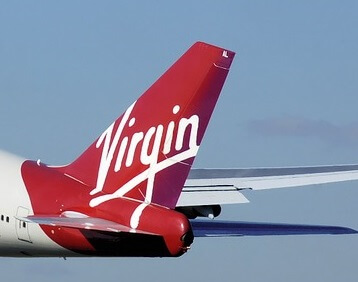 Virgin Atlantic is celebrating the completion of a milestone Florida-London flight that used LanzaTech's carbon-recycling technology.
EPIC Fuels provided expertise in fuel blending, as well as technical and logistical support, to Virgin Atlantic and LanzaTech to enable the first-ever commercial flight using a blend of petroleum-based jet fuel and alcohol-to-jet synthetic paraffinic kerosene (ATJ-SPK) fuel produced from waste gases, says EPIC.
LanzaTech's technology captures carbon-rich industrial waste gases, such as those from steel mills, and recycles them into ethanol. The ethanol, in turn, can be used for a variety of low-carbon products, including being upgraded to ATJ-SPK, which can be blended into jet fuel, explains EPIC.
After blending traditional jet fuel with LanzaTech ATJ-SPK, the fuel mix was rigorously tested at a commercial jet fuel-testing laboratory. EPIC also worked with Menzies Aviation at Orlando International Airport (MCO) to ensure all requirements were met for both ASTM testing and airport operations for this fuel.
The results met the required specifications for ASTM 1655 jet fuel and were cleared for use on the historic flight onboard one of Virgin's Boeing 747 aircraft. The first flight using this fuel was VA flight 16 from MCO to London Gatwick (LGW) on Oct. 2.
"Today we make history by showing there is a new way to make low-carbon fuels and to keep fossils in the ground," says LanzaTech's CEO, Jennifer Holmgren. "This flight is a real example of the circular economy in action; indeed, we no longer have to imagine a day when a steel mill can make the steel for the plane and the fuel to power that plane by using its waste gases. Thanks to our partners around the globe, we can show that reusing carbon is not a fantasy."
"As a fuel provider, EPIC Fuels recognizes the need to find alternatives to petroleum-only-based jet fuel," adds Kai Sorenson, director of commercial sales for EPIC Fuels. "We've participated in multiple demonstration flights to identify and fast-track technologies that can improve the environmental performance of aviation and gained unmatched experience with blending fuels."
A Virgin Atlantic blog says the Boeing 747-400 G-VROM arrived at LGW this morning, welcomed on-site by Sir Richard Branson.
At a press conference, Branson said, "Long-haul travel is more important than ever for connecting people around the world. And it's our responsibility to ensure we're doing that in the most sustainable way possible. Working with LanzaTech will enable us to drastically reduce our carbon emissions and at the same time, help support U.K. industry. That's why we're so excited to showcase this fuel on its first commercial flight as we plan for the world's first full-scale jet fuel plant using this amazing new technology."