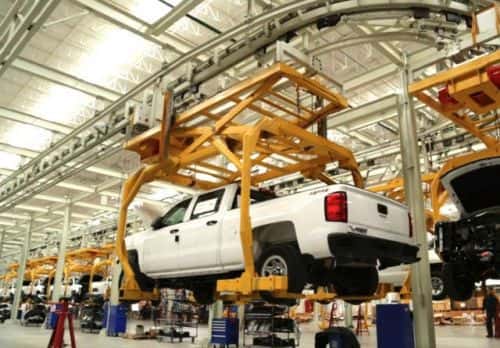 VIA Motors has announced commercial production of hybrid-electric Chevy Silverado pickup trucks.
The company will transform conventional Silverados from GM into electric vehicles by integrating V-Drive technology, which includes two electric motors and lithium-ion batteries. VIA Motors says the proprietary drive technology provides 'unlimited extended range' with a 16-gallon gasoline tank that delivers an additional 400 miles of generated electric driving.
The electrified Chevy Silverado will be built in VIA's new high-volume production facility located near the GM Silao plant in Mexico. VIA says its facility will be capable of producing up to 10,000 vehicles per year.
'VIA has invested five years in the development of our proprietary electric drive technology and the establishment of a solid fleet market base," says VIA CEO Pablo Acedo. "We are proud to now begin commercial production and plan for a rapid ramp-up to initially fill the present and growing demand by fleet customers."
VIA Motors notes it is also offering hybrid-electric Chevy Express cargo and passenger vans.
Photo caption: Conventional Chevy Silverados are being transformed into electric pickup trucks at VIA Motors' assembly plant in Mexico. Photo courtesy of VIA Motors.