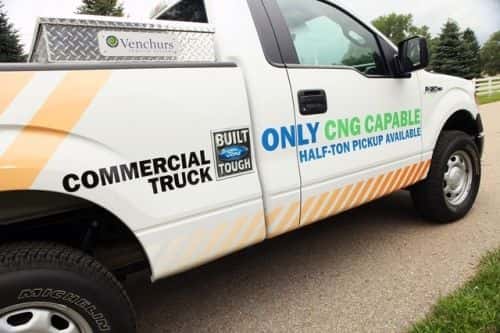 Venchurs Vehicle Systems says it is now offering a ship-thru option for compressed natural gas (CNG) conversions of 2014 Ford F-150s. Venchurs' ship-thru capability for this platform follows the company's announcement in July that it would be offering conversions for the popular pickup truck.
Venchurs, as a Ford Motor Co. Qualified Vehicle Modifier (QVM), is able to provide fleets with dedicated and bi-fuel CNG conversions that maintain Ford's warranty and are eligible for Ford Credit financing. The ship-thru option adds another element of convenience to the process.
'We are the first QVM to have ship-thru available for the F-150, which makes ordering easier and less expensive for our dealers and customers,' says Jeff Wyatt, CEO of Venchurs.
With ship-thru installation, Venchurs receives the vehicles directly from the Ford assembly plants and then completes the CNG conversion. The truck re-enters the Ford system for direct delivery to dealerships.
Venchurs also offers a drop-ship option, meaning rather than re-entering the Ford system, the converted truck can be sent directly to the customer.
Ford introduced a factory-installed gaseous-fuel prep package for the 2014 F-150 this summer. The technology enables the trucks to be converted to run on natural gas or propane autogas.