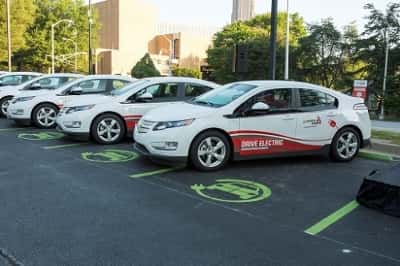 Atlanta-based utility Georgia Power has rolled out a new fleet of 32 plug-in electric hybrid Chevy Volts.
'We are leading by example and demonstrating to our customers, and other Georgia businesses, that electric transportation works for all drivers,' said Paul Bowers, Georgia Power's chairman, president and CEO, at a launch event. 'Through constructive regulation, and partnerships with organizations like the EV Club of the South, we are growing the EV market in Georgia and helping our customers reap the overwhelming benefits of driving electric.'
The new, Georgia Power-branded Chevy Volts will be driven daily by utility employees as they serve customers in local communities from Savannah to Columbus to Rome. The EVs will be used primarily by the company's energy efficiency experts as they travel to conduct energy audits at homes and businesses.
Â
In 2014, Georgia Power launched a new electric transportation initiative to further advance Georgia as an EV-friendly state through its "Get Current. Drive Electric." program. The program currently includes an ongoing public education campaign, EV charger rebates for business and residential customers, and special rates and charging options for EV customers.
Georgia Power says it is dedicated to developing products and services that meet the needs of customers, including an increasing interest in EVs and electric transportation options.