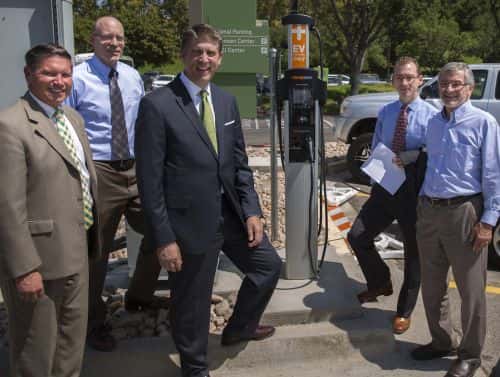 On Aug. 24, Utah Valley University (UVU) unveiled two electric vehicle charging stations and two newly purchased Toyota Prius plug-in hybrid EVs on its Orem campus.
According to a UVU press release, the project was funded through a series of grants from the Governor's Office of Energy Development (OED), the Utah Clean Air Partnership, and the Utah Division of Air Quality.
The two grant-supported Prius PHEVs will displace more emissions-intensive vehicles in UVU's fleet, and one of the two charging stations will be dedicated to serving the PHEVs and to provide an impetus to UVU to continue transitioning to a more diverse fleet.
Meanwhile, the other charging station will be located in the visitor lot at UVU's main entrance, right off Interstate 15's Exit 269. Charging at the station will be available to the public for free.
"UVU is providing the charging stations to the public free of cost to demonstrate our commitment to this project and improving air quality along the Wasatch Front," said Val Peterson, UVU's vice president for administration. "This project is an important step in heeding the governor's call and turning a vision into a reality from which all Utahns will benefit."
The new charging stations provide guests and fleet vehicles with up to 240 volts of alternating current charging capacity. All charging will be recorded through cloud services for UVU and OED to track station usage.
Photo courtesy of Utah Valley University