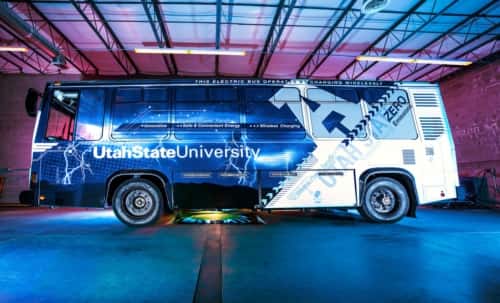 Utah State University has completed the 'Aggie Bus' – an electric bus that is charged through wireless charging technology. WAVE Inc., a Utah State spin-out company, worked in cooperation with the USTAR Advanced Transportation Institute to develop the vehicle.
'The unveiling of the Aggie Bus today is a historic achievement and a great leap forward in the science and engineering related to electric vehicles,' says Dr. Robert Behunin, USU's vice president of commercialization and regional development. 'As a result of the work done by Utah State engineers, scientists and partners, EV owners and operators will now be able to simply drive over a pad in the ground to recharge their batteries – the benefits of which reach far beyond convenience.'
WAVE, in partnership with the Utah Transit Authority, will launch its first commercial demonstration in mid-2013 on the University of Utah's campus. It will feature a 40-foot transit bus on a public transit route and an increase in wireless power transfer charging from 25 kW to 50 kW.