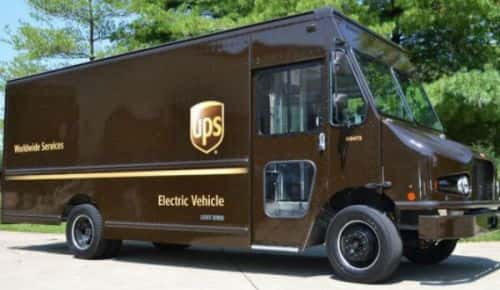 UPS says it has purchased 125 advanced hybrid-electric delivery trucks from Workhorse Group Inc. as part of a broader program to deploy electric-powered vehicles with greater range and performance. The vehicles will be deployed in Arizona, Texas, Nevada, Mississippi, Alabama, Georgia and Florida in the first half of 2016.
Workhorse Group, the Ohio-based parent company of AMP Electric Vehicles Inc. and AMP Trucks Inc., has confirmed that UPS has ordered its E-GEN trucks. Although the E-GEN is considered a hybrid, Workhorse CEO Steve Burns says the vehicle is almost fully electric, having only a small gasoline-powered internal combustion engine to charge the truck's battery pack when necessary and only when the vehicle is in park. The plug-in truck features a 60 kWh lithium-ion pack with Panasonic 18650 cells, he says.
'It's its own category essentially,' comments Burns. He explains the E-GEN is designed to drive in all-electric mode, and the onboard 25 hp internal combustion engine serves as a backup generator to offer extended range but never drives the vehicle. Burns also notes E-GEN vehicles could instead be equipped with small generators that run on compressed natural gas or propane autogas.
'These trucks are designed specifically to meet the stop-and-start needs of UPS' urban delivery routes,' says Burns, adding that the vehicles can offer a 50- to 60-mile-per-day range. 'We are thrilled to work with UPS to develop and deliver innovative solutions to today's transportation challenges.'
According to UPS, the new trucks will deliver significant fuel economy equivalency gains – up to four times the fuel economy of a gasoline-powered vehicle, compared to a 10% to 15% improvement with previous hybrid designs.
Although the new electric vehicles will cost UPS slightly more than a similar truck with a conventional engine, the company says its sustainability commitment influenced the purchase decision.
'These vehicles are a bridge to the delivery trucks of tomorrow,' says Mark Wallace, UPS' senior vice president global engineering and sustainability. 'This investment will help create and grow the market for ground-breaking alternative propulsion systems that reduce environmental impact, reduce operating costs and save fuel.'
UPS says it is collaborating with Workhorse to develop a more intelligent electric vehicle to determine when and where the batteries will be charged and recharged. The initiative is part of UPS's ongoing Rolling Laboratory approach.
UPS also has an ultimate goal of driving 1 billion miles in its clean fleet by the end of 2017, and the company operates more than 5,000 alt-fuel and advanced technology vehicles on the road worldwide. Such vehicles include all-electric, hybrid-electric, hydraulic hybrid, CNG, liquefied natural gas, propane and biomethane models. The company also uses lightweight, fuel-saving composite body vehicles.
Photo courtesy of Workhorse Group: An electric UPS delivery truck.