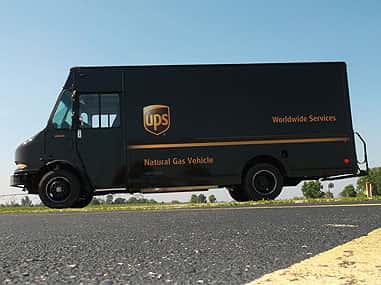 In the ever-growing natural gas vehicle (NGV) industry, when a fleet operator deploys any number of NGVs, two or 200, it is certainly noteworthy. Well, UPS just announced plans to purchase and deploy 1,400 new compressed natural gas (CNG) vehicles over the next year, more than doubling its current CNG fleet in the U.S. Wow!
Kristen Petrella, a UPS spokesperson, tells NGT News the major shipment and logistics company already operates more than 1,000 CNG vehicles across the country. All told, UPS has over 5,000 alternative fuel and advanced technology vehicles globally. In addition to CNG, the company has embraced liquefied natural gas (LNG), propane, all-electric, electric hybrid, hydraulic hybrid and biomethane vehicles.
Petrella explains the new CNG vehicles will include approximately 800 tractors and 600 of the company's familiar, brown package-delivery vehicles.
She says Kenworth will provide most of the tractors, which will feature Cummins Westport ISX12 G engines. Petrella adds the trucks will also be equipped with fuel systems from Agility Fuel Systems and Quantum Fuel Systems Technologies Worldwide Inc.
For its part, Agility has revealed in a press release that it will supply its 160 DGE behind-the-cab CNG systems for 445 of UPS' new tractors. With this order, Agility says UPS will soon operate a total of about 1,600 heavy-duty trucks featuring Agility CNG or LNG systems.
"As an early adopter, UPS has been a role model for trucking fleets introducing natural
gas into their operations," says Barry Engle, CEO of Agility Fuel Systems, in a statement. "We are proud to have worked with UPS over the last several years to support their natural gas rollout."
Petrella says the CNG package-delivery vehicles, meanwhile, will be built by Freightliner Custom Chassis Corp. and have Morgan Olson bodies. They'll be powered by GM's 6.0-liter Vortec V-8 engine, converted with Landi Renzo systems.
In addition to the vehicle purchases, UPS has announced plans to build 15 fueling stations to support the company's expanding CNG fleet. Petrella says all of the CNG stations will be located on UPS property and private, and the company has tapped TruStar Energy to build them.
Although full details about the CNG stations have yet to be disclosed at press time, TruStar Energy spokesperson Jeffry Swertfeger tells NGT News, "TruStar Energy is both proud and excited to be building CNG fueling infrastructure for UPS – one of the most recognized brands in the world."
According to a UPS press release, 12 of the CNG stations will be in new NGV deployment regions, and the other three will be overhauls and upgrades to existing CNG stations. The company notes it already has CNG stations in Georgia, Colorado, Oklahoma and California.
UPS says it will deploy the new CNG vehicles across 15 cities: Atlanta; Doraville, Ga.; Charleston, W.Va.; Dallas; Denver; Lexington, Ky.; Port Allen, La.; New Orleans; Lenexa, Kan.; Montgomery, Ala.; Oklahoma City, Okla.; New Stanton, Pa.; Richmond, Va.; and Roanoke, Va.; and Shreveport, La.
The company notes the new CNG vehicles and stations will further its efforts to use lower-carbon fuels and advanced technologies.
'UPS' investment in a large-scale alternative energy fleet has enabled the company to avoid more than 34 million gallons of conventional fuels since 2000,' says Mitch Nichols, UPS senior vice president of transportation and engineering, in a statement. 'Today's CNG announcement demonstrates UPS' plans to expand use of widely available natural gas. CNG is an important building block in our long-term fleet strategy and offers environmental and economic advantages.'
To learn more about UPS' sustainability initiatives, click here.