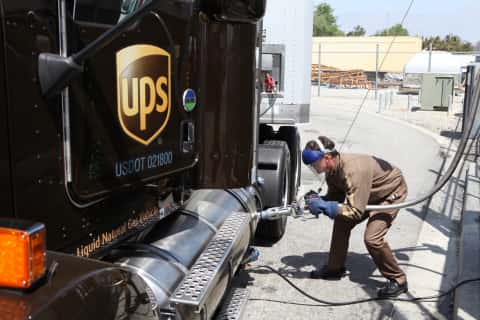 UPS is putting a larger stake in natural-gas-powered transportation, announcing this week that it intended to add 700 liquefied natural gas (LNG) tractors to the 100-plus already integrated into the company's operations.
'LNG is a good alternative to petroleum-based fuel for long-haul delivery fleets, as it is abundant and produces reduced emissions at less cost,' says Scott Davis, UPS' chairman and CEO. 'LNG will be a viable alternative transportation fuel for UPS in the next decade as a bridge between traditional fossil fuels and emerging renewable alternative fuels and technologies.'
Right now, UPS operates 112 LNG tractors and relies on fueling stations in Las Vegas; Phoenix; Salt Lake City; and Beaver, Utah – as well as a UPS-owned facility in Ontario, Calif. – to refuel these trucks. However, the company says it will support the 700 new trucks by investing $18 million in four new LNG refueling stations in Dallas and in Knoxville, Nashville and Memphis, Tenn. These four will be online by the end of next year.
With the addition of these LNG fueling stations, UPS will be able to expand its LNG-fueled routes into metro areas such as Dallas, Houston and San Antonio.
UPS notes that the company operates more than 1,000 natural gas vehicles worldwide, as well as a number of propane autogas, electric and other alt-fuel vehicles.