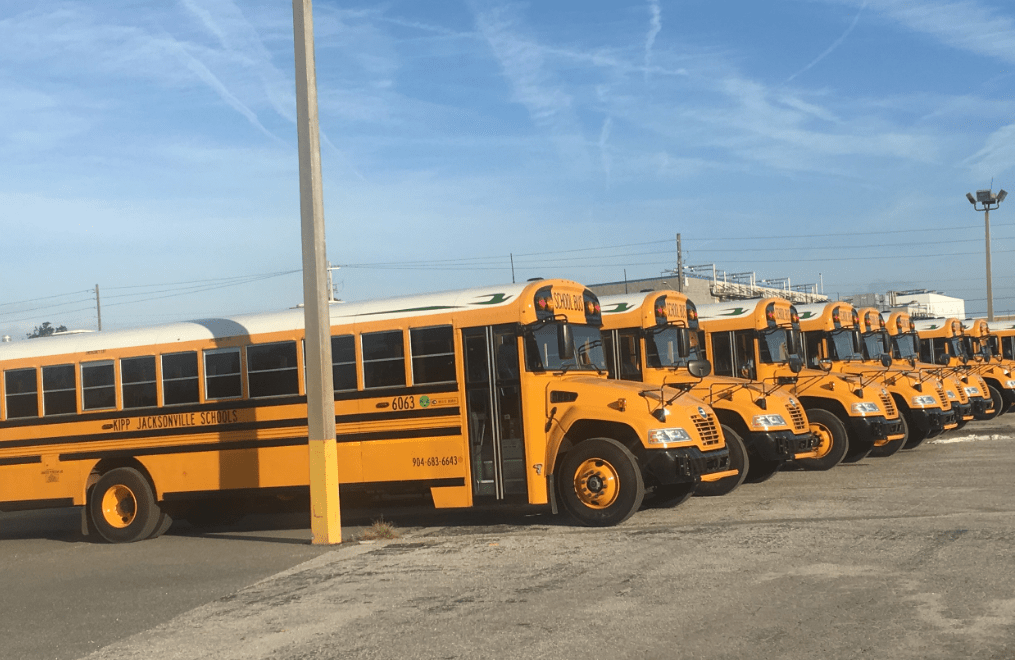 KIPP Jacksonville Schools, located in Jacksonville, Fla., has deployed an all-propane fleet of Blue Bird Vision school buses to transport students to and from the area campus. According to Blue Bird, this deployment marks the first-ever 100% propane-fueled school bus fleet for a U.S. charter school.
Bobby Kennedy, founding transportation manager of KIPP Jacksonville Schools, explains that this is the first year the school will have its own dedicated fleet: "As the size of our campus expanded, along with the number of students, it was time to have our own means of transportation. We consulted with our Blue Bird dealer – Florida Transportation Systems – on available options and were impressed by the safe and clean-operating properties of propane-fueled buses."
As reported, the charter school's 14 Blue Bird Vision Propane buses will help lower its carbon footprint, while also providing dependable transportation to its students, emitting 80% fewer smog-producing hydrocarbons and virtually eliminating particulate matter when compared with diesel.
"When compared with other fuel types, propane naturally runs cleaner, making for a more pleasant ride for both KIPP Jacksonville Schools' passengers and drivers," says Brian Carney, executive director of school bus and customer support for ROUSH CleanTech, manufacturer of the buses' propane fuel system. "It also has noticeably quieter operation and increased maintenance savings overall."
The ROUSH CleanTech propane autogas fuel systems are U.S. Environmental Protection Agency- and California Air Resources Board-certified.
According to Kennedy, KIPP Jacksonville Schools' drivers stated that the Ford 6.8 L V10 engines in their Blue Bird propane buses are responsive in acceleration, providing them with the confidence to speed up in heavy-traffic areas. In addition to the quiet engine, drivers also reported that the buses do not heat excessively at their feet compared with diesel models.
"More than 650 school districts across the U.S. and Canada have added our cost-effective, reliable Blue Bird Propane Vision school buses to their fleets, including 10 districts in Florida that operate over 440 propane buses total," says Phil Horlock, president and CEO of Blue Bird Corp. "I congratulate KIPP Jacksonville Schools for being a leader for other charter schools to explore alternative-fuel use in their school bus fleets."
As reported, KIPP Jacksonville Schools currently pays about half the cost per gallon for propane compared with the average cost for diesel in the area.
Notably, the charter school plans to continue purchasing only propane-fueled buses in the future.