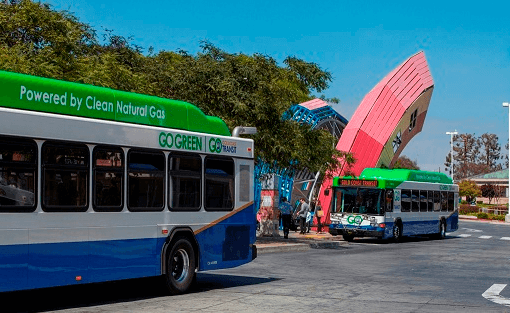 Gold Coast Transit District (GCTD), an Oxnard, Calif.-based public transit provider, has selected Trillium CNG, part of the Love's Family of Companies, to design and build a compressed natural gas fueling station for its fleet of CNG buses.
According to Trillium CNG, the district is building a new maintenance and operations facility, which includes a new administration and operations building, fleet maintenance and repair building, and a CNG fueling station.
As reported, GCTD contracted with Icon West and Trillium to design and build the CNG portion of the project.
"This new fueling station will serve our needs as we expand our fleet and provide more service to the residents of our district," says Steven Brown, general manager for GCTD. "With the capability to house 125 buses and more than 400 employees at the new facility, we will continue providing service with clean CNG-fueled buses that help improve the quality of life in Western Ventura County. This is important to helping us fulfill the mission and vision of our agency."
Scheduled to open in fall 2018, the private CNG station will serve 56 buses operating in Ojai, Oxnard, Port Hueneme, Ventura and the unincorporated areas of Ventura County, the company says.
Specifically, the CNG portion of the new station includes three compressors; robust storage; a dual-tower, automatic regeneration dryer; three single-hose transit dispensers; and a dual-hose light-duty dispenser.
"Continued adoption of CNG is crucial in areas across the country, especially in states like California that are working to reduce greenhouse-gas emissions," says Bill Cashmareck, managing director of Trillium CNG. "Gold Coast was looking for a station that would last so they could provide environmentally responsible transportation, and we're pleased to serve them."
Trillium owns or operates 48 stations in California, including eight owned stations with public fueling access.