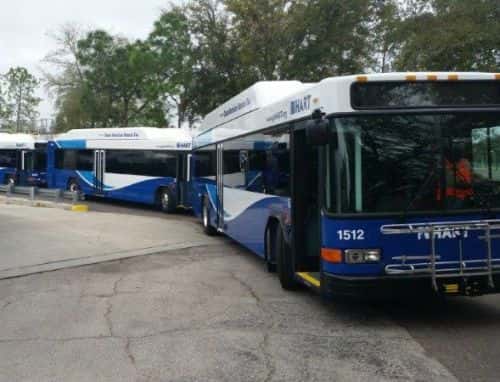 The Hillsborough Area Regional Transit Authority (HART) is closer to achieving its goal of transitioning its entire fleet over to compressed natural gas (CNG) vehicles.
HART, which serves Hillsborough County, Fla., recently put its first 22 CNG buses on the road and into service. The 40-foot Gillig CNG buses replaced two fleets of diesel vehicles that began service in 2001-2002 and are ready for retirement.
The agency says each bus is estimated to reduce fuel costs by $16,022 annually and significantly limit harmful emissions. Furthermore, HART says CNG buses are a timely investment, thanks to historically low fuel prices and unprecedented domestic production of natural gas.
Last year, the agency also added 28 CNG vans and opened a refueling station with partner Clean Energy Fuels Corp.
'We are committed to clean air technology,' explains HART CEO Katharine Eagan, in a statement. 'Our continued investment in a clean fleet of alternative fuel vehicles and proven green technologies has made us an industry leader in the state of Florida.'
HART says it will continue replacing its aging fleet vehicles as they reach the end of their useful lives. Currently, the agency has about 150 buses and 20 vans left to replace with CNG models. The full fleet conversion is scheduled for completion in 2025.