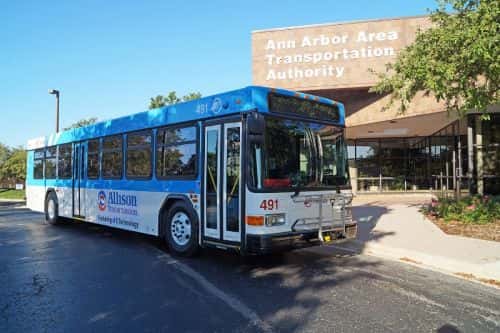 Michigan-based Ann Arbor Area Transportation Authority (TheRide) has become the first transit agency to use Allison Transmission Holdings' new xFE transmission technology. Allison says the fully automatic bus transmission, designated xFE for 'extra fuel economy,' has demonstrated fuel-saving improvements of up to 7%.
TheRide and Allison have dedicated the first of 60 new buses equipped with the xFE transmission. The new buses are part of TheRide's Five-Year Transit Improvement Program to implement new and expanded services, while also replacing older buses in the agency's fleet.
So far, TheRide has taken delivery of eight buses, with seven more due in November. Another 45 buses will be delivered over the next five years. In addition to the xFE transmission, the buses feature a new exterior design.
'We continue to seek new and emerging technologies that foster environmental responsibility,' states Matt Carpenter, CEO of TheRide. 'Pairing the brand-new xFE transmission with our bus fleet will serve as an important step as we implement both our new and improved services and our sustainability initiatives.'
According to Allison, transmissions with xFE have the same space claim and ratings as current models, but incorporate optimized gear ratios coupled with the company's FuelSense Max electronic controls package. They enable torque converter lock up in first gear and operate at lower engine speeds in higher ranges to further improve fuel economy, the company adds.