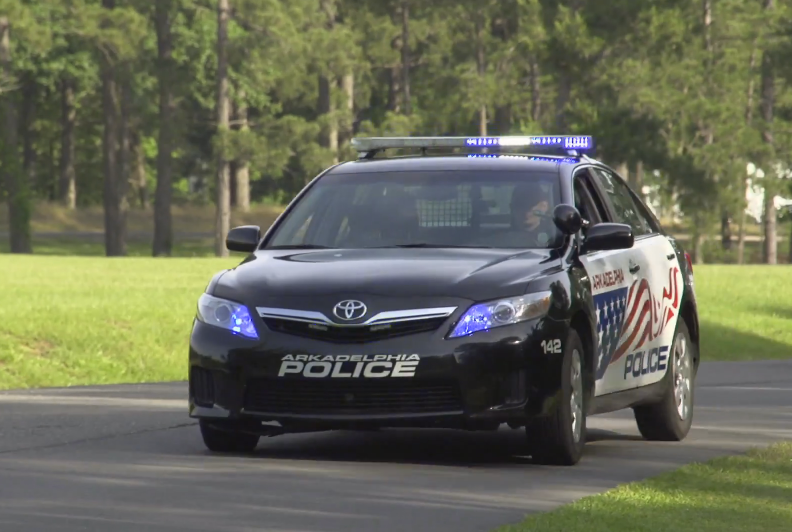 Since 2010, the City of Arkadelphia, Ark., has replaced its aging fleet of Ford Crown Victoria Police Interceptors with Toyota Camry Hybrid police cars. Though some officers were less than thrilled at first, the lower fuel and maintenance costs have helped reduce the city's annual budget by about 3%, and officers have come to appreciate the hybrids, too.
"I was dead-set against it," says veteran officer Don Cleek. "To me, a police car's supposed to be rear wheel drive, V8 and can go through ditches." Despite the misgivings of officers like Cleek, City Manager Jimmy Bolt pushed Chief of Police Al Harris to give the Camry Hybrids a try.
The Ford Crown Victoria Police Interceptors the town was using averaged just 12 MPG to 14 MPG in combined city and highway driving, costing the city about $2,500 in fuel and maintenance per month. In comparison, the Toyota Camry Hybrids achieve about 27 MPG combined, about double what the old Fords were capable of.
The Camry Hybrids are also faster than the Crown Vics they replace, going from 0 MPH to 60 MPH in about 7.6 seconds – more than a second faster than the old Fords. This simple fact helped officers transition to the hybrid police cars, and Arkadelphia now has a total of 16 Toyota Camry Hybrid police cars in its fleet.