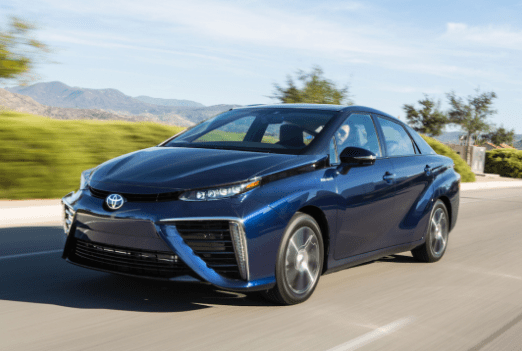 Toyota has announced pricing for its 2017 model year (MY) Mirai hydrogen fuel cell electric vehicle (FCEV) and boasts its U.S. Environmental Protection Agency-estimated driving range of 312 miles.
According to Toyota, the car is a zero-emission vehicle, combining hydrogen and oxygen to make electricity on board while emitting nothing but water vapor. The automaker adds that it refuels in around five minutes.
As reported, the MY17 MSRP remains $57,500, plus an $865 destination fee. Mirai customers also may qualify for an $8,000 federal tax credit and $5,000 potential California rebate, along with access to the coveted California HOV carpool lane.
The Mirai comprehensive, ownership experience remains unchanged for MY17, boasting a range of services, including a hydrogen station finder app.
The eight-year/100,000-mile warranty on key fuel cell vehicle components includes the fuel cell stack and power control unit; fuel cell hydrogen tanks; hybrid battery pack and ECU; fuel cell air compressor, boost converter and ECU; hybrid control module (power management control module); and hydrogen fueling ECU.