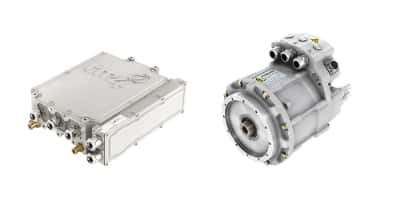 Ballard Power Systems has chosen TM4 Inc. to supply electric motors and inverters to be coupled with new compressor units. This announcement follows the launch of Ballard's seventh generation FCvelocity-HD7 power module at the 2015 UITP World Congress and Exhibition in Milan, Italy.
Ballard says it selected the TM4 MOTIVE series of high RPM motors for its proven reliability, quality and high power density. TM4 recently partnered with PSA Peugeot Citroen, Exagon Motors, Hydro-Quebec and the Gouvernement du Quebec to develop a new electric drivetrain.
The selection of TM4's products was also driven by the cost-optimization process of the development of this new generation of FCvelocity-HD power module, says Ballard.
"We are pleased to be working with Ballard on their new generation of FCvelocity-HD7 power module," says Robert Baril, TM4's CEO. "This new project has allowed TM4 to optimize our products for fuel cell module requirements, enabling our expansion into a new and promising market. We look forward to this collaboration that will certainly strengthen the relationship between our companies."